Disputes over European borders were rife on Thursday during a meeting of EU interior ministers.
A proposal to expand European Union's Schengen border-free travel zone was blocked after several ministers contested a bid by Bulgaria and Romania to join, despite acknowledging the two were technically qualified for it.
The Schengen zone permits passport-free travel for citizens of member countries. The two countries failed to win the support of all the existing 26 participating states for their accession.
Germany, France, Denmark, Finland, Sweden and Holland blocked the motion, citing fears over border security. They requested further evidence that Bulgaria and Romania were able to control illegal immigration and crime following concerns regarding the security of the countries' existing borders.
The European Commission is due to publish a report on their efforts to step up controls in July.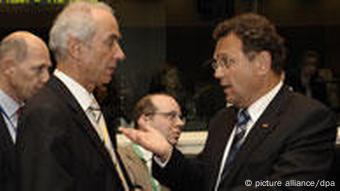 EU ministers were concerned for border security
"Based on this report, we will see how we will go on," German interior minister Hans-Peter Friedrich said.
Expansion postponed
In an EU draft statement, ministers vowed to readdress the bid "as soon as possible, but not later than September 2011." According to a European Union diplomat, however, the Netherlands opposed a decision before 2012.
"It is too early to take a decision now and it may take some time before we are in a position to do so," said Dutch immigration minister Gerd Leers.
"The Schengen system is based on mutual trust. We are asking new countries to effectively guard our collective borders," he added.
A possible resolution being touted is to introduce Romania and Bulgaria gradually into the Schengen area. The Hungarian interior minister Sandor Pinter, whose country holds the
EU presidency, proposed "a step-by-step" approach.
"In 2011, entry points at airports would be opened ... road and sea entry points would open up at a later stage," he suggested
Migrant influx dispute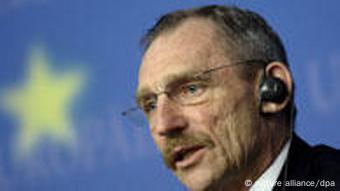 Hungary was in favor of a gradual expansion of the Schengen zone
Despite Thursday's disappointment, Romanian interior minister Traian Igas said his country was still hoping to be let in before the end of the year.
"Our target date is the year 2011, in the autumn," he told the German press agency dpa.
Fears over expanding the borderless Schengen zone have been heightened following the influx of migrants into Europe in the wake of recent unrest in North Africa.
"I think this influx made many member states much more vigilant," Igas told dpa.
France and Italy were most affected by the recent wave of immigration. They suggested that the Schengen Treaty should be changed in order to make it easier to reintroduce temporary border controls.
But the proposal has been met with less enthusiasm by other EU countries, including Germany.
"It is necessary to continue offering the countries flexibility to react in cases of danger ... a country must be able to react quickly, and that has to be preserved in the future too," German interior minister Hans-Peter Friedrich said.
Undermining Schengen
Meanwhile, talks also focused on Danish plans to reinstate permanent border controls. A diplomatic dispute has erupted between Denmark and Germany over border controls
Denmark, a member of the Schengen zone, was criticized for proposing to disregard the Schengen treaty by reinstalling passport checks without the approval of European lawmakers.
Germany, which borders Denmark, has fiercely opposed the move.
"We do not want to initiate a conflict with Denmark, but we will ask clear questions," Friedrich said during the Luxemburg talks. "We cannot accept that Schengen be undermined," he added.
But Denmark's justice minister Lars Barfoed, contested Friedrich's concerns.
"We want free passage of persons across the borders in the EU," he said. "We have no intention of undermining the Schengen convention at all."
"We will be just as open a country as we have been before," he added. "People coming to Denmark will hardly notice that we have an enforced customs control. But of course if you are a smuggler of weapons or drugs, then you might have a problem."
The European Parliament has also criticized the introduction of the new restrictions saying they would harm freedom of movement.
Author: Charlotte Chelsom-Pill (AFP, dpa, Reuters)
Editor: Michael Lawton