The European Commission issued a policy paper on Wednesday that suggests border controls could be temporarily reintroduced in the Schengen free travel zone in extreme situations.
"It may be necessary (when) a part of the external borders comes under heavy unexpected pressure," said EU home affairs chief Cecilia Malmstrom.
The Schengen treaty has led to the abolition of controls and fences along the borders of much of continental Europe. Recently, however, France and Italy have squabbled about what to do with the thousands of undocumented immigrants who have arrived in Italy since the unrest in North Africa began.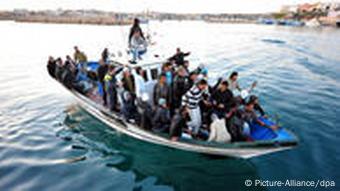 The flood of immigrants has put pressure on the ideals of the Schengen zone
Overwhelmed, Italy issued temporary residence permits, giving them the right to travel anywhere within the 25-nation Schengen zone. France, where many of the immigrants are believed to be headed, responded by increasing police checks along its border with Italy and sent back immigrants it encountered who could not prove they could support themselves financially in France.
Last week Italian Prime Minister Silvio Berlusconi and French Prime Minister Nicolas Sarkozy held talks in Rome that ended with a request to European Commission President Jose Manuel Barroso for changes to Schengen.
"The commission is currently considering the possibility to strengthen the application of the rules governing the Schengen agreement," Barroso said in response in a letter published by the executive. "The temporary reintroduction of borders is one of the possible options."
Currently only in the case of a "serious threat" to public order or internal security can a country impose temporary border controls.
A call for stronger external borders
The French wire service AFP has published what it says is a draft policy paper, in which the commission calls for the reinforcement of the pan-European Frontex border agency and "effective and credible" external borders.
The paper says there must be a control mechanism for countries failing their external border responsibilities or if the border comes under "unexpected and heavy pressure due to external events."
"As a last resort in truly critical situations," temporary border controls may be reintroduced.
'Not up for negotiation'
Some countries, including Germany, are not interested in watering down Schengen.
"If you can improve the Schengen system, then that is good and you should," German Foreign Minister Guido Westerwelle said last week. "But travel freedom in Europe is such an important achievement that it should not be up for negotiation."
In Greece, another country that has found it difficult to cope with hundreds of thousands of undocumented immigrants, the minister for citizen protection said on Tuesday that Schengen must be "jealously guarded."
"In such a moment the EU should not seek solutions reminiscent of the time before the EU was formed," Christos Papoutsis said in a statement.
One reform Greece is interested in is a change to the EU's Dublin II regulation, which puts the burden of processing and dealing with immigrants on the country in which they arrive. Greece would like to see that responsibility spread among the EU member states.
The commission's proposals are set to be discussed at an EU interior ministers meeting on May 12 and a heads of state summit in June.
Author: Holly Fox, Spencer Kimball (AFP, dpa, Reuters)
Editor: Michael Lawton