Raniye Elgis, a 41-year-old Syrian from Aleppo, smiles as she watches her newborn twin grandchildren get examined by nurses. It's their second check up since they were born four weeks earlier and she's pleased to hear everything looks normal. Before leaving, Elgis is given liquid vitamin D supplements to feed the twins at home, just two blocks up the street, where their young mother is recovering from a C-section.
The consultation is done in Arabic by Syrian staff, something that wasn't widely available in Ankara until recently. For years, most of the city's 85,000 Syrian refugees relied on Turkish doctors for medical care, a process that was often complicated by language barriers and cultural misunderstandings.
Yet now, Elgis is one of thousands of Syrians who have benefited from free, refugee-only primary health services at the Altindag Bab-i Sifa (or "Door to Health") migrant health center. The two-story facility opened in Ankara's most densely populated refugee neighborhood in September and operates entirely on funding from the EU-Turkey agreement aimed at improving the lives of 3.3 million Syrians in the country.
"This is more comfortable," Elgis told DW regarding the services provided in Arabic. "They really take care of us and listen to what we say."
Treating and employing Syrians
The Altindag health center is one of 178 planned medical facilities that will serve refugees in Turkey. Such projects are financed by the EU through a 300-million-euro ($350-million) grant to the Turkish Ministry of Health, which will provide not just primary health care, but also vaccinations, family planning counseling, mental health services, physical rehabilitation, and 26 mobile health units to reach Syrians living outside urban areas.
Read more: Money makes the EU-Turkey deal go round
Such refugee health centers are expected to employ about 1,500 Syrian staff, offering much needed jobs for medical professionals in the refugee population, which until now were mostly unable to make use of their skills, according to Felix Leger, a technical assistant for health and education with ECHO, an EU entity managing refugee projects in Turkey.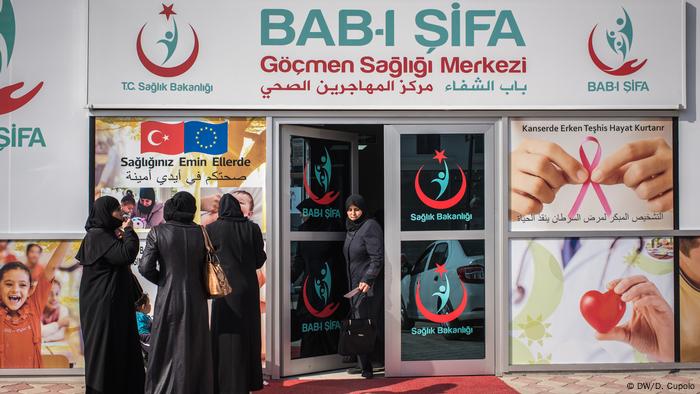 A group of Syrian women stand in front of the Altindag Bab-i Sifa migrant health center in Ankara
"We knew many Syrian refugees that were crossing the border were doctors and nurses, [so] we tested the waters with the Health Ministry to maybe use that workforce for the benefit of the Syrian communities," Leger told DW. "The ministry was extremely progressive in the sense that, yes … they saw it as an opportunity to help people."
While Syrian doctors may have been certified to work in their home country, many arrived in Turkey either without documentation or lacking transferrable medical degrees to work in the Turkish health system.
To alleviate such administrative roadblocks, Leger said Syrian medical workers seeking employment in refugee health centers have been enrolling in apprenticeship-styled programs where they work side-by-side with Turkish doctors to demonstrate their medical experience and learn how to navigate Turkish health protocols.
Professional help
Dr. Nidal Ozturk is one of five Syrian doctors currently working at Ankara's Altindag health center who completed such training. A Turkmen from Manbij, Ozturk already knew how to speak both Turkish and Arabic, but had been unemployed since fleeing to Turkey in 2013.
"When you are a doctor and you can't do your job, it's worse than being unemployed because you know the community needs you," Ozturk told DW.
Now speaking from inside his office, where most of the furniture and electronic equipment is tagged with stickers baring the EU flag and a text reading, "Funded by the Europe Union," Ozturk said he was grateful to be once again working in the medical field. He sees about 50 patients a day and said his main priorities lie in vaccinating and educating his visitors.
"When you are a refugee, vaccination is not a priority," Ozturk said. "It's the first thing we ask about when we see a child we haven't seen before."
Transition in refugee health services
The Altindag refugee health center receives about 200 patients a day and is running on a budget of 600,000 euros, which covers all operating costs until the end November 2019, according to Burcu Kuru, reporting and documentation expert for Sihhat, the organization managing health services for Syrians in Turkey.
The EU has dedicated a total of 3 billion euros toward a wide array of refugee-centered initiatives in Turkey, such as education opportunities and social service programs, while the Turkish state said it has so far spent $25 billion (21 billion euros) on its refugee population.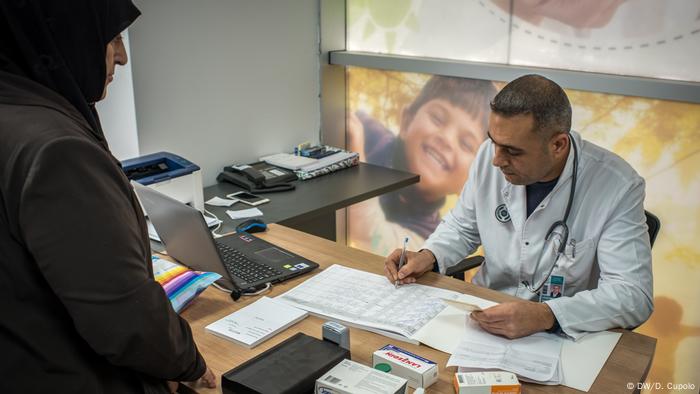 Dr. Nidal Ozturk receives a patient in his office at the Altindag Bab-i Sifa migrant health center
Questions remain over which entities will finance future refugee programs, but for now humanitarian officials say the overall response to refugee needs is transitioning from emergency relief to long-term integration and management, most likely under state ministries, as many Syrians are expected to remain in Turkey for the foreseeable future.
"I don't see why the Ministry of Health would invest significantly [in humanitarian] infrastructures if it doesn't want to sustain them," said Leger. "Unless tomorrow, there's 2.5 million people going back to Syria, which is very unlikely, I would tend to think that these structures would continue [to function.]"
First published on November 14, 2017
© Copyright InfoMigrants - All rights reserved
InfoMigrants is not responsible for the content of external websites
Source: InfoMigrants