The robust European Union response to Moscow for allegedly poisoning ex-Russian spy Sergei Skripal and his daughter stands as a high point in coordinated resistance to the Kremlin's heavy-handed efforts to undermine the west.
But in the weeks since the toxic attack, a low point has also been reached. A three-year-old EU program to highlight and disarm Russian propaganda is being savaged by its own stakeholders.
Angered by the inclusion of articles in Dutch media on the disinformation-tracking website of the EU's East Stratcom Task Force, in early March the Dutch parliament formally decided it would try to have the EUvsDisinfo service shut down.
The task force's Disinformation Review that sparked the animosity lists articles which it believes portray a "partial, distorted or false view or interpretation and [spreads] key pro-Kremlin messaging." It has so far identified 3,800 cases in 18 different languages. The three Dutch articles were ultimately removed from the list — a couple of them because an actual error had been made, and the other, insiders suggest, because of political pressure.
Dutch demand disbanding unit
But the Dutch parliament is undeterred in wanting the service shuttered, despite the improbability of gaining significant support from other EU countries.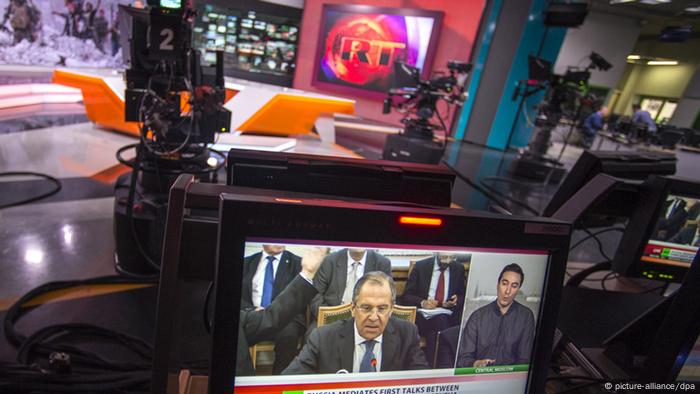 EUvsDisinfo includes Russia Today in the disinformation 'ecosystem'
Dutch pro-democracy activist Alice Stollmeyer is astounded and annoyed. "Shutting it down and especially not offering an alternative? I'm sorry that's just a lousy motion," Stollmeyer told DW.
Read more: Baltics battle Russia in online disinformation war
"Over the thousands of instances of disinformation that [EUvsDisinfo] have spotted, it's a very, very tiny error margin, less than one percent! If any company would have that low error margin, people would be thrilled."
What she saw as a lack of coordinated trans-Atlantic effort in combating Kremlin tactics of disinformation and cyberattacks led Stollmeyer to create her own initiative, "Defending Democracy," in order to more effectively contribute. "The only possible world in which we will need less of [countering disinformation] is the Kremlin stopping this hybrid war against Western democracies, which I think is highly unlikely," she added.
Lawyer alleges flawed fact-checking
Another salvo has since come from EU law professor Alberto Alemanno. Alemanno and three counterparts have filed a complaint with the EU Ombudsman contending the Disinformation Review "violates the rights to freedom of expression and due process of those accused of distributing disinformation."
Alemanno calls the service "well intentioned" but takes issue with its conduct, alleging it doesn't meet standards of the International Fact-Checking Network (IFCN).
"We are not calling for the closing of the disinformation unit," Alemanno emphasized. "But we are simply saying that the EU should upgrade its own fact-checking system and should be more compliant with all fundamental rights incuding the right of defense. There is no transparency whatsoever on how they are actually considering 'my news' or 'your news' as fake."
Read more: Austria's public broadcaster sues far-right vice chancellor over 'fake news' post
Alemanno is himself getting blasted on Twitter. While Jakub Kalensky, who leads East Stratcom's counter-disinformation efforts, declined DW's request for an interview, he spoke succintly and directly to Alemanno through a tweet about the accused lack of transparency, which he dismissed.
Others have publicly addressed Alemanno's complaints by noting that errors in the Dutch cases were acknowledged and rectified.
Think tanks muster support
Jakub Janda, head of the Kremlin Watch program at the European Values Think Tank in Prague, is livid about the situation. "I am surprised by how several individuals have decided to try to kill the best government initiative in Europe for exposing pro-Kremlin disinformation," Janda said. "The Kremlin has some useful idiots who often serve its foreign policy goals. This helps sabotage various countermeasures and paralyze some of the right responses."
Read more: Countering fake news while safeguarding free speech
Janda has launched a campaign to not just save but supplement the unit, which has suffered from a lack of institutional enthusiasm as well as an aversion to controversy in the European External Action Service (EEAS) to which East Startcom belongs. In addition, member states have not wanted to fund it, preferring to run such programs nationally.
East Stratcom has just received its first budget allocation of €1.1 million ($1.4 million) from the European Parliament.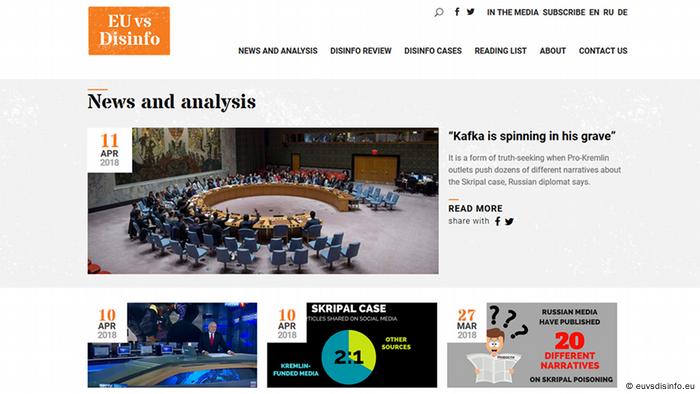 EUvsDisinfo publishes daily analyses
In an opinion piece on the euobserver site titled"EUvsDisinfo site must be strengthened, not abolished," Janda and 16 other experts state: "The bloopers which the Dutch parliament's resolution mentions are the result of the difficult starting phase of EUvsDisino and its flagrant lack of financial means and manpower. Compare that with the hundreds of millions of dollars and thousands of persons the Kremlin has working for its propaganda, disinformation and fake news."
Avoid 'propaganda victory' for Moscow
A leading expert on Russian disinformation, Ben Nimmo of the Atlantic Council's Digital Forensic Research (DFR) Lab, warns it's dangerously misguided for EU governments to think they can do a better job alone than is possible at EU level. "The problem with Russia's disinformation campaign is that it's international and coordinated," he explained. Acknowledging that East Stratcom is "understaffed and under-resourced," Nimmo urges improvement, not implosion.
"[It's] the best repository we have of how the Russian campaign works and how it's shifted over time," he said. "Closing East Stratcom down would be handing a major propaganda victory to the Kremlin."
But by DFRLab's latest measurement, "propaganda victory" on the Skripal case is already nigh. Two out of three articles on the subject shared on social media are from Moscow-controlled outlets disavowing Kremlin involvement, the research shows. In the "war of narrative," the article concludes, "Russia is winning."
Each evening at 1830 UTC, DW's editors send out a selection of the day's hard news and quality feature journalism. You can sign up to receive it directly here.