There's something odd about a door in Ruben Mugica's office in San Sebastian (Basque Country, Spain) that leads into a cozy and elegant meeting room. It's the little glass peephole which seems out of place. What's the point of such a device to look into another room in the same office? "This is where the bodyguards used to be, and they would use the hole to check who came into the office," Mugica said, just a few hundred yards away from the place where ETA murdered his father, PSOE leader Fernando Mugica. He points to the wooden table in the room. "This used to be packed with sub-machine guns," he told DW. Now, the table is empty and the bodyguards are long gone.
After 40 years of bloody conflict that has claimed the lives of over 1,000 people, ETA is finally surrendering its weapons. The disarmament will be another step in the peace process that started over five years ago, when the terrorist group announced the "permanent end" of its violent struggle.
Read: Basque separatist group ETA floats agenda to disband
"The end of violence was the big deal; the disarmament doesn't change anything," says Ruben Mugica, who leads the Basque Association of Terrorism Victims (COVITE). Mugica told DW that he expects the police to interrogate whoever participates in the handling of the guns. "This is just propaganda from ETA, trying to wear its best smile after being defeated by the police. The state should be the protagonist of the disarmament, and not some bandits," he says.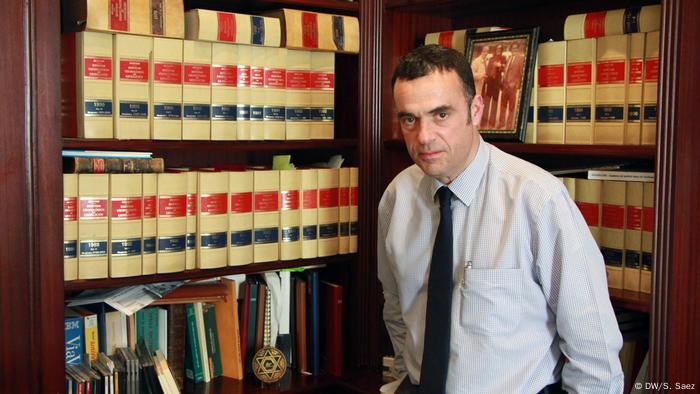 Ruben Mugica, whose father was killed by ETA, says ETA's disarmament is merely propaganda
The prisoner dilemma
At the same time that Mugica's bodyguards looked through the peephole for the last time, Arkaitz Bellon was in jail. He had been arrested in July 2000 for participating in clashes with the police, burning down an ATM and two buses in San Sebastian. The National Court considered his actions "kale borroka" ("street struggle" in Basque), considered as terrorism in Spain. He was sentenced to 13 years in jail, but died of a lung edema at the age of 36, two months before his scheduled release. Many blamed the isolation and dispersion policies applied to Basque prisoners and claimed that he shouldn't have been in prison in the first place.
Read: Spanish authorities reveal details of huge black-market weapons cache
Spanish law dictates that inmates sentenced for terrorism-related crimes see their rights reduced. This includes incarceration in prisons distant from the Basque Country, restricted visits and strict observance of full-term incarceration, without possibility of parole or access to penitentiary benefits, among other measures. Currently, there are 265 people jailed in such conditions in Spain in relation with ETA's terrorism.
Civil society associations and Basque nationalist parties such as the leftist EH Bildu and the conservative PNV have demanded an end to these policies and are pushing for the relocation of inmates to Basque prisons. Both Julen Arzuaga, a regional MP for Bildu, and Jokin Bildarratx, a PNV Senator, hope that ETA's disarmament will bring a chance to unblock the prisoners' issue.
For PP and PSOE, as well as for victims' associations, the fate of the prisoners lay in ETA's hands. MP Mari Mar Blanco (PP), the sister of murdered councilman Miguel Angel Blanco, thinks that only ETA's dissolution and its collaboration in the resolution of over 300 unsolved murders can unlock this position. "The prisoners themselves have to demand ETA's dissolution, and then we will be able to bring them back, because there will be no terrorist band." Until then, she says, the government won't budge from its current policy.
Inaxio Oiartzabal is a member of Sare, a civil society organization that denounces human rights abuses inflicted on Basque prisoners and their families. Oiartzabal says that relatives have to travel thousands of kilometers each weekend to visit their loved ones. "It involves many risk, including traffic accidents and anxiety-related disorders," he told DW. In addition, he said, there are 13 prisoners currently suffering from serious illnesses whose condition could deteriorate further under conditions of isolation.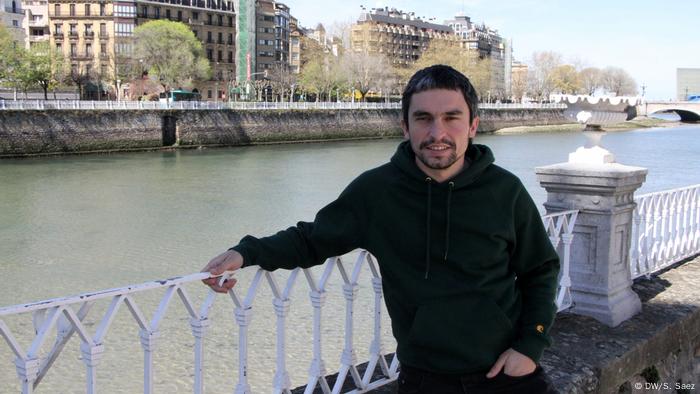 Inaxio Oiartzabal is campaigning to ease conditions and restrictions for Basque prisoners
Read: Thousands rally in Spain for ETA prisoners to be moved closer to families
Markel Ormazabal was sentenced to six years for being part of Segi, an organization linked to ETA by former National Court Judge Baltasar Garzon. "I have never touched a gun or a bomb. We gave interviews and press conferences, and had offices that were open to all. We were not clandestine until they decided so," he told DW.
Open wounds
Ormazabal was in jail when ETA announced an end to its violent campaign in 2011. "It was a paradox [for the inmates]. On the one hand, the end of the bloodshed was a reason for happiness, but, on the other, our conditions as prisoners grew tougher." This strategy, Ormazabal says, reflects the Spanish state's desire to block any step toward peace. "Spain has always needed an enemy to keep unity, so it doesn't really want peace," he said.
Many people in the Basque Country are looking forward to leaving the conflict behind them and all the pain and suffering caused by decades of fear and death. From those threatened by ETA, who can now go out without bodyguards, to the prisoners' relatives, who hope that they will soon see their families reunited.
"Any chance of solution will require us all to understand and accept the pain and suffering that the one in front of us has gone through. No matter who he is," says Ormazabal.
But Ruben Mugica doesn't think his pain will get better. "The Jewish part of my family died in Auschwitz. Then we were persecuted by Franco, and the survivors were threatened and killed by ETA. My family's wounds will never heal," he said.