Marching under a banner "Human rights, resolution, peace," Saturday's rally was organized by left wing political groups and the ELA and LAB unions. The Basque newspaper "Gara" estimated there were 78,000 people taking part.
An ETA prisoners' rights group released a statement condemning "those who keep in prison prisoners who have long served their sentences imposed by the courts."
Protest organizers said there were 351 imprisoned members and sympathizers of the armed pro-Basque independence group ETA. They added that there were 273 ETA prisoners being held in Spanish jails and 78 held in France but only two were detained in the Basque region. The Spanish interior ministry has issued no figures.
The wife of a police officer killed by ETA in 1993 joined the rally under a banner reading "Basque prisoners to the Basque country."
"All people here in the Basque country, we have fought a lot, we had to suffer a lot. The only thing we want is that peace comes and that peace is also given to these people," she said in reference to the prisoners.
Many relatives and friends have to travel hundreds of kilometers (miles) to visit the ETA inmates, the demonstrators said. Rights group Amnesty International has said that the dispersion policy for the prisoners goes against United Nations standards.
The separatist group has been blamed for the deaths of 829 people as a result of bomb attacks it carried out between 1959 when it was set up and 2011 when it declared a cease fire. ETA wants to create an independent area in the Basque regions which cover northern Spain and southwest France.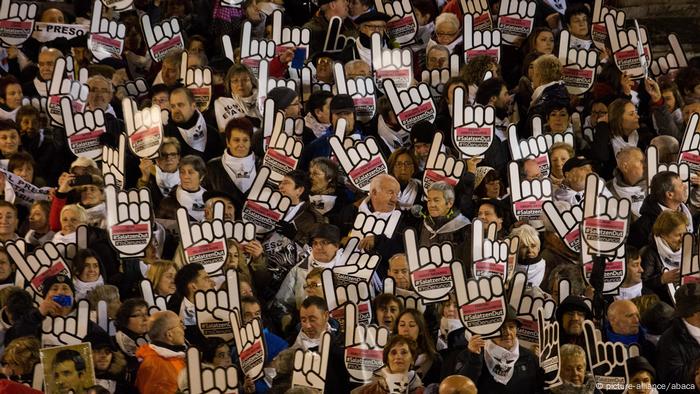 Protesters in Bilbao
A demonstration is held every January in the Basque country protesting the conditions under which the separatist prisoners are being held. There have also been calls for an amnesty.
Amnesty case-by-case
The collective of Basque political prisoners (EPPK) has given up its demand for universal amnesty but has asked for negotiations over suspending sentences on a case-by-case basis.
Spain's interior ministry has said there would be no change in its dispersion policy until ETA fully disarmed and its members asked for pardons.
Five people were arrested last month after weapons believed to belong to the group were found in southern France.
jm/kl (EFE, AP, AFP)