After two months of examination and categorization, Spanish police on Tuesday finally revealed the extent of the massive weapons haul they undertook in January 2017.
According to the published police statement, the cache included 9,000 CETME fully automatic rifles, anti-aircraft guns, 400 shells and grenades, pistols, and revolvers.
Photos published by the police show piles of assault rifles, guns and weapons parts lying in stacks and leaning against the walls of a warehouse.
Cracking down on Europe's black market weapons
Spanish police originally seized the firearms in a raid undertaken on January 12 and 13 in the northern regions of Catalonia, Cantabria and the Basque country. The operation was initiated after the May 2014 shooting at the Jewish Museum in Belgium that left four dead and spurred authorities across Europe to crack down on black market weapons.
Five suspects were also detained in the January raids.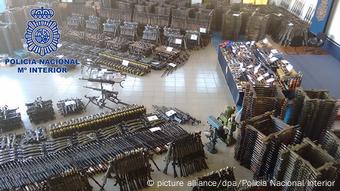 Europol and Spanish police cooperated on the operation
Police reported the group bought decommissioned weapons that they then reactivated. The pieces needed for such reactivation were found in the trove.
Alongside the thousands of arms, authorities also discovered material needed to falsify arms documentation and tools required to change the weapons' identification numbers. Europol, the EU police force that worked alongside Spanish authorities in the operation, believe the illegal firearms were intended for sale in Spain, France and Belgium.
"The seized weapons had an easy journey in the black market and posed a significant risk of being acquired by organized crime groups and terrorists," Europol said in a statement.
cmb/bw (dpa, AFP)