The worldwide arms trade rose to its highest level since the Cold War in the five years between 2012 and 2016, according to a study by a Swedish-based research institute released on Monday.
The volume of world arms trading increased by 8.4 percent compared with the 2007-2011 period, the study by the Stockholm International Peace Research Institute (SIPRI) said.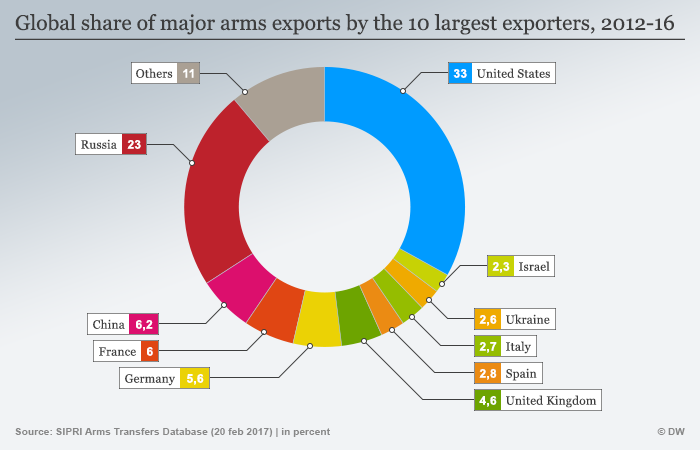 The United States remained the world's top weapons exporter, supplying 33 percent of the arms traded abroad, ahead of Russia on 23 percent. Together with China (6.2 percent), France (6 percent) and Germany (5.6 percent), they accounted for almost 75 percent of global exports of heavy weapons.
The study showed the United States and France as the main weapons suppliers for the Middle East, and Russia and China for Asia.
The US is the main supplier of heavy weaponry to the Middle East
India, Saudi Arabia top importers
The top importer was India, which has little or no national weapons production and acquired most of its arms from Russia, with a 13 percent share, followed by Saudi Arabia on 8 percent. The latter almost trebled its share from 2007-2011, the study said, buying half of its weapons from the US and the rest from Britain and Spain.
China, the United Arab Emirates and Algeria were the other biggest importers.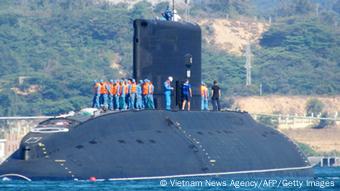 Vietnam has bought several Russian submarines
The regions of Asia and Oceania accounted for 43 percent of all imports in the period. The study said that amid heightened tensions in the South China Sea, Vietnam, Indonesia and the Philippines had all stepped up their imports of naval vessels, submarines and combat aircraft.
Europe, Latin America down
The Middle East almost doubled its imports compared with the 2007-2011 period, taking a 29 percent share.
Europe's global imports were down by a third as a result of defense cuts, making up 11 percent. Imports were also largely on the decline in Latin America, with only Mexico increasing its demand.
The study does not cover small arms and draws its data from a variety of public sources, including newspapers and government and industry reports.
tj/rc (dpa, AFP)