The "Osnabrücker Zeitung" newspaper reported that zoo staff shot dead the bear 'Tips' after she escaped from her enclosure by breaking through fencing.
A zookeeper managed to escort a second bear, a male named 'Taps,' that had remained inside the enclosure, back into his pen.
Four thousand visitors were at the zoo making the most of the sunny early spring weather, reported the newspaper serving the Osnabrück region in western Germany.
Had a tranquilizer been used, its effect would have taken 20 minutes, zoo director Dr. Michael Boes told the newspaper, saying that 'Tips,' after breaking out, had first headed past the zoo's lion enclosure to its flamingo enclosure.
There, visitors first noticed the escaped 300 kilogram (660 pounds) bear and notified staff at the zoo's entrance. Staff decided on the fatal shot to protect the public, Boes said.
Particularly in spring, after their winter sleep, bears by nature could act more aggressively than usual, he said.
Tips' death was a great loss, Boes said.
Visitors evacuated
Visitors were evacuated, some after being told by staff to shelter briefly in buildings, including a monkey house, the newspaper reportedly initially.
The public was later allowed to return to the grounds, except for the closed-off area where Saturday's drama took place.
The zoo's business manager Andreas Busemann told the Deutsche Presse-Agentur news agency, "We reacted immediately with the team; to protect visitors we had to shoot the animal."
Second zoo tragedy this week
The shooting, which took place before police arrived, is Germany's second zoo bear tragedy this week.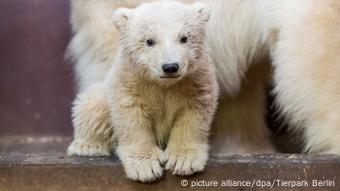 Berlin's Fritz died from a liver infection
A baby polar bear, Fritz, died at Berlin's Tierpark Zoo on Monday.
Osnabrück's large cappuccino-colored pair were offspring 10 years ago of a polar bear and female brown bear then kept together at the zoo.
Until then, zookeepers had not believed their parents would inter-breed.
Climate change made the pair a major attraction, underscored by similar bear finds in the warming arctic wild, for example, in Canada.
In winter, Tips and Taps explored their enclosure's frozen pond ice, like polar bears. In summer, they lay dozing, like brown bears.
Spring day shooting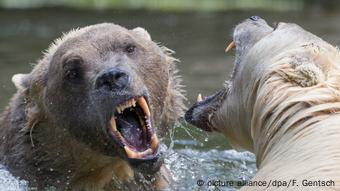 Taps (left) and Tips in 2015
Police praised Osnabrück Zoo staff for preventing visitor panic inside the park.
"Numerous police officers rushed to the zoo ... together with staff at the zoo, the whole area was evacuated," said a police spokeswoman quoted by the Reuters news agency.
The "Osnabrücker Zeitung" newspaper cited visitor Sonja Mattke as saying that she was near the enclosure as events unfolded.
Mattke said the zoo made two loudspeaker announcements, one to warn that the bear had broken out, and a second to urge visitors to leave the animal park.
Another visitor cited by the newspaper said she did not hear any such announcements.
ipj/jlw (dpa, Reuters)