Turkish Prime Minister Recep Tayyip Erdogan has never been a fan of social media. For weeks now, recordings of his telephone calls have been popping up on YouTube and spreading like wildfire via Facebook and Twitter.
Erdogan has already introduced a controversial law clamping down on the Internet, and now he has sparked yet another furore. In a television interview with the broadcaster ATV on Wednesday (06.03.2014), the Turkish premier threatened to ban YouTube and Facebook altogether. "We will not leave this nation at the mercy of YouTube and Facebook," he said. He warned that the government would take action after the local elections on March 30, which are starting to be seen as a kind of referendum on his policies.
"These people incite any kind of immorality or espionage for the profit of these institutions," he said. This kind of "mentality of freedom," he added, could not be permitted.
For the social media platform Twitter, Erdogan's comments were like a red rag to a bull. An avalanche of tweets expressed both outrage and humor, including messages like: "Erdogan wants to conquer the Internet. Good luck with that," or: "Now Erdogan has lost it completely."
The Turkish president, Abdullah Gül, does not seem to back Erdogan's idea. The newspaper Hürriyet quoted him as saying that "closing down these sites is out of the question," adding that they are very important platforms. Communications Minister Lutfi Elvan, however, has lent Erdogan his support. If illegal material was being published, he said, this couldn't be tolerated.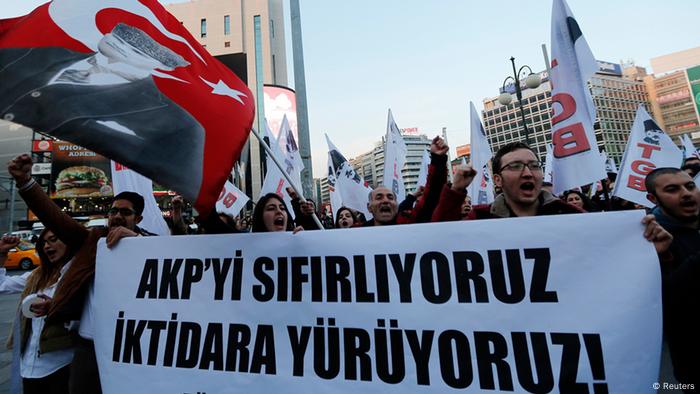 There have been a series of anti-government protests since the corruption scandal broke
Erdogan under pressure
Erdogan's phone calls have repeatedly appeared as videos published on YouTube in recent weeks. In some instances, the prime minister even admits that he did indeed have the conversations in question. However, he denies the authenticity of the recording that has caused him the most trouble. Published on February 24, it is allegedly a telephone conversation between Erdogan and his son Bilal, in which the prime minister appears to be telling his son to hide vast sums of money.
The call is said to have taken place on December 17, 2013 - the day the corruption scandal involving the Erdogan government broke. Erdogan describes the recording as a "montage," but while some of the recordings have not been confirmed as genuine, the government has made no particular efforts to prove that they are fakes. Erdogan has repeatedly pointed the finger at his former ally, the Islamic preacher Fethullah Gulen who now lives in the US, accusing him of leading a "state within a state" in Turkey and claiming that he is the one behind the publication of the wiretaps.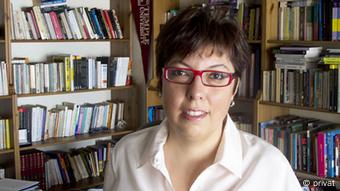 Asil Tunc warns that Erdogan wants to gain control over social media
Asli Tunc, an expert in social media at Bilgi University in Istanbul, says it is these recordings that have prompted Erdogan to threaten YouTube and Facebook. "He's obviously annoyed," she said. "He was already attacking Twitter during the Gezi Park protests, but this situation is different: The recordings represent a threat to him," Tunc told DW. Also, she added, the discussion about the so-called "state within a state" has been taking place on social media, and now Erdogan is now reacting very violently.
"Erdogan wants to control the Internet and social media as tightly as he does the mainstream media," Tunc says. But, as she explains, it isn't that easy. The Turkish government blocked YouTube before, some years ago, but even then there were already plenty of ways for people to get around the restrictions.
As for Facebook, Tunc says the social media site is very important for the Turkish people. With 34 million Facebook users, Turkey is number seven in the site's country rankings. Shutting it down would be an absolute contravention of freedom of speech, Tunc says: "A government can't simply shut down a page just because it doesn't like the opposition."
Circumventing censorship
Erkan Saka has been blogging his criticism of the government for ten years now. He mostly uses Facebook and Twitter. "Lots of Facebook users who are critical of the government have already set up anonymous profiles," Saka told DW. "They don't want to say anything under their real names any more. They're afraid of the consequences." The 38-year-old blogger believes that even if the government doesn't actually shut down the sites, it will declare certain posts illegal, and will prosecute the posters.
"It's completely ineffective to close sites down, anyway," he says. "There are so many other Internet sites, as well as software you can use to circumvent the restrictions. That's why I love the Internet."
Right now, Saka fears that Erdogan is unstoppable. "Erdogan is the state," he says. "He controls the judiciary and the police. There's no one who would take him to court."