Egypt's interior ministry admitted Monday that police and military had opened fire on a tourist convoy in a deadly case of mistaken identity.
The tourists and their guides were accidentally shot at as security forces pursued militants in Egypt's western desert region, the ministry said.
"On (Sunday) the 13th during a joint military police and armed forces operation chasing terrorist elements in Wahat in the Western Desert four pick-up trucks carrying Mexican tourists were mistakenly dealt with," the interior ministry said in a statement.
"The incident led to the death of 12 and wounding of 10 Mexicans and Egyptians.
Mexico wants answers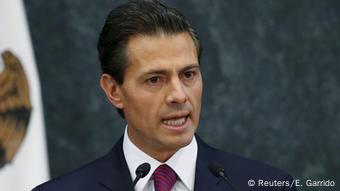 Mexico's President Enrique Pena Nieto has condemned the attack on its citizens and demanded a full Investigation.
Egypt has yet to detail the identifies of the killed and wounded but the Mexican foreign ministry said at least two Mexican tourists were killed and five hospitalized in stable condition.
"For the moment, we regrettably confirm the death of two Mexican nationals in this incident," the ministry said in a statement.
Mexican President Enrique Pena Nieto took to Twitter to condemned the attack and demanded an investigation.
"Mexico condemns these incidents against our citizens and has demanded an exhaustive investigation about what happened from the government of Egypt," Nieto wrote on his official account.
The Wahat desert region, popular with tourists, is a notorious hideout for militants who engage in running battles with security forces. The interior ministry said the incident happened in an area off-limits to tourists and is investigating why the group was in that area.
A tour guide in Cairo, who spoke to DW on condition of anonymity, expressed doubt that the convoy could have reached the area without the necessary permits from authorities: "Out of experience, as I have been working as a tour guide since 1993, the western desert, especially the oasis area, can never be crossed by a single person except with a permit from security forces - and they also have to be escorted by a force from the police or army. The security measures there are tightened beyond your imagination. So the fact that the cars got inside the area means that they sure had permission to get them through. I say it is most probable that the permission has not been handed to the forces responsible for securing the area at the right time, so the army troops did not know the tourists were going to pass, and went on with their operation," the guide surmised.
Egypt is battling an insurgency that gained pace after the elected President Mohammed Morsi of the Muslim Brotherhood was ousted in a military coup in mid-2013. The Islamist ex-president is now in prison on Egypt's death row.
jar/bw (Reuters, AFP)