Egypt Station, Paul McCartney's first album in five years, comes out on Friday and it is praised as the 76-year-old's most ambitious album in years, combining classic Beatles-esque music with fresh sounds.
While there is little explicit connection to Egypt, McCartney has described Egypt Station as a kind of musical travelogue.
"Egypt Station starts off at the station on the first song and then each song is like a different station. So it gave us some idea to base all the songs around that," he said in a statement. "I think of it as a dream location that the music emanates from."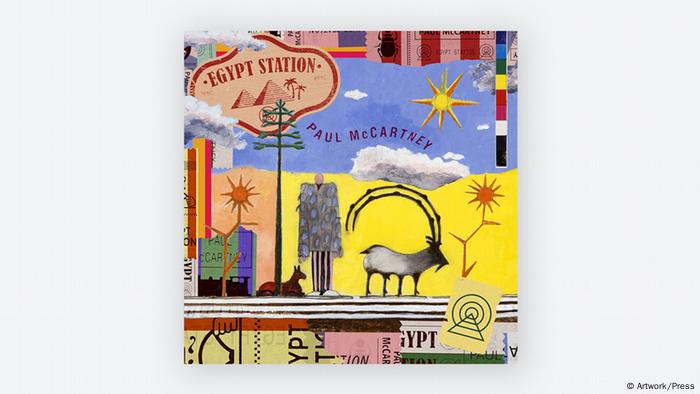 He also explained that he aimed to create an exoticized metaphor for a distant, dreamlike journey on the album through a "travelogue vibe."
It kicks off and ends with ambient pieces; the opening, a snippet of train noise, is followed by the piano ballad "I Don't Know," which McCartney has described as his favorite song on the album.
The former Beatle recorded the Egypt Station in Los Angeles and Britain with Greg Kurstin, the US producer famous for co-writing Adele's mega-hit, "Hello."
The album's 16 tracks include the catchy tune "Back in Brazil," the optimistic "People Want Peace," and "Fuh You," which was co-written and produced by OneRepublic's Ryan Tedder.
Read more: Pop legend Paul McCartney turns 75 and can't be stopped
A burst of energy
The album's name is taken from one of McCartney's paintings, which depicts sunflowers and animals under a blue sky. The musician turned painter has been prolific over the years in his visual art, having shown his work for the first time in 1999 in Siegen, Germany.
The album is McCartney's first since 2013's New, which also boasted a variety of younger producers and fresh sounds.
The musician, despite having turned 76 in June, has celebrated a burst of energy in recent years that has included a global tour throughout 2016 and 2017.
However, he told Rolling Stone magazine two years ago that it would be "unimaginable, and unseemly" to keep performing when he is 80.
als/eg (AFP, dpa)