The 80-year-old Saudi monarch addressed the Egyptian parliament on Sunday where he received a tumultuous welcome with repeated applause and standing ovations as he wrapped up a five-day visit announcing investment in Egypt's economy and infrastructure.
An agreement announced the day before by the Egyptian cabinet that settles the dispute over the islands of Tiran and Sanafir provoked an immediate backlash in Egypt, where thousands tweeted a hashtag accusing President Abdel-Fattah el-Sissi of selling the islands.
The deal came as Saudi Arabia's controversial King Salman was in Cairo where $16 billion (14 billion euros) in projects and infrastructure were announced. An Egyptian government official said other deals with Riyadh - excluding the investment initiative - would amount to $1.7 billion.
Saudi Arabia has already given significant financial and diplomatic backing to Egypt since el-Sissi - then head of the armed forces - overthrew the divisive Islamist President Mohammed Morsi in 2013.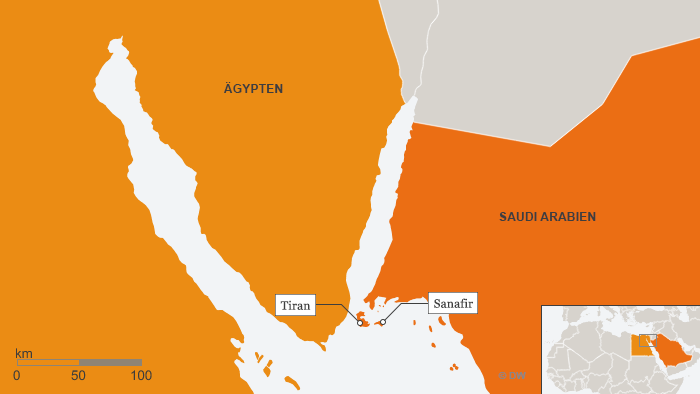 Tiran and Sanafir control the southern entry to the Gulf of Aqaba, where both Israel and Jordan maintain important ports
Strategic shipping gateway to Red Sea ports
Cairo justified the move by saying the islands had only been protected by Egyptian forces following a request by Saudi Arabia's then-king Abdul-Aziz in 1950.
Opponents claim that a 1906 treaty signed by Britain and the Ottoman Empire, marking the border between Egypt and Ottoman-held Arabia, put the islands in Egyptian territory.
Ratification by Egypt's 596-seat parliament is expected as it is packed with el-Sissi loyalists.
Egyptian government spokesman Hossam al-Queish said the conclusion that the two islands were Saudi followed 11 rounds of negotiations by experts from the two countries over more than six years.
"There is no doubt that the Egyptian side is concerned about every square inch of border, whether on land or sea," he told the private ONTV network in a telephone interview.
Critics have called for a public referendum over the agreement.
Haidy Farouq, a borders expert, said on ONTV that there is evidence of Egyptian ownership of the islands dating back to the 2nd century, and that she has maps and documents backing Egypt's ownership. "The two islands are Egyptian 100 percent," she said.
Dissent is not tolerated in el-Sisi's Egypt. Police broke up a small demonstration over the islands in downtown Cairo, arresting five people, according to security officials.
In the Nile Delta city of Damanhur, two university students were arrested when police broke up a small protest, according to rights lawyer Mohammed Abdelaziz, a native of the city and unnamed security officials.
jar/bw (AP, dpa, AFP)