Edward Snowden appeared via a live video link to accept the Norwegian Academy of Literature and Freedom of Expression's Bjornson Prize for freedom of speech on Saturday. The former intelligence contractor for the US said he had "no regrets" about leaking information on mass surveillance programs.
"We will honor you as the most important whistleblower of our times," said Hege Newth Nouri, head of the board of the Bjornson Academy. Prize winners receive 100,000 kroner ($12,000 or 10,762 euro), a statue and a diploma.
"I honestly never expected to be free today; I expected to be in prison. I didn't expect to get awards; I expected my reputation to be ruined, because a number of incredibly powerful officials around the world were personally embarrassed because of these revelations," Snowden added.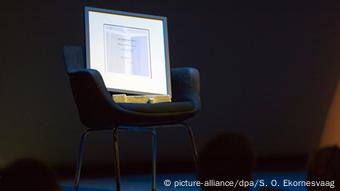 Snowden received a standing ovation when his Award statuette and diploma were placed on an empty chair
Empty chair
Unable to attend the ceremony himself, an empty chair stood in his place on the stage in Molde, Norway - representing both Snowden and the failure of the award organizers to guarantee the award winner would not be extradited upon entering the country. Snowden had to flee the US after leaking intelligence documents and was granted asylum in Russia.
"Norwegian authorities could not guarantee that he could come without the risk of being extradited to the United States," said Newth Nouri, adding that organizers had not ruled out the possibility of giving Snowden the award on the Norwegian-Russian border one day.
Documents were released by Norwegian public broadcaster NRK earlier this week that showed the US asked Norway in 2013 to arrest and extradite Snowden if he ever entered the country.
Snowden is also one of the 272 nominees for the 2015 Nobel Peace Prize, which is also awarded in Norway. The prize winners are to be announced on October 9.
rs/se (AP, AFP, dpa)