Same-sex marriage was approved in Ecuador on Wednesday in a landmark ruling by the country's Constitutional Court.
Lawyer Christian Paula said triumphantly: "It means that Ecuador is more egalitarian. It recognizes that human rights must be for all people without discrimination."
Read more: Botswana decriminalizes gay sex
The decision came after judges voted 5-to-4 in favor of approval.
The arguments against centered around having to debate the process in the National Assembly prior to changing current legislation.
However, Gustavo Medina, a former Supreme Court president, said that authorities were obliged to accept the conclusions of the Constitutional Court because they were "binding and mandatory."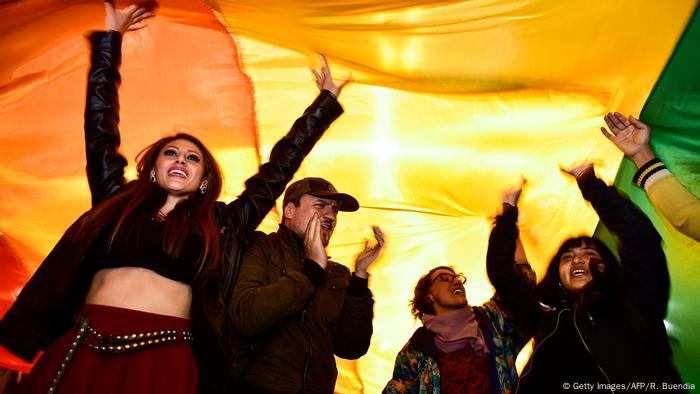 Celebrations abound after Ecuador approved same-sex marriage in the traditionally Catholic country
The process began when two couples filed a lawsuit as they wanted to marry. Efrain Soria and Xavier Benalcazar, one of the couples, have been in a civil partnership for the past seven years.
Civil unions get fewer rights than married people but now, thanks to the change in laws, same-sex marriages will be entitled to the same inheritance and estate benefits as heterosexual spouses.
Soria told reporters in Quito: "I want to say hello to Javier, who is in Guayaquil. Honey, I love you."
"Enjoy the happiness that comes from being equal, like anyone else. It is a joy for our entire community and Ecuador," said Soria, who is the head of the Ecuadorian Equality Foundation, an LGBT rights group.
Ecuador joins other Latin American countries Argentina, Brazil and Colombia in legalizing same-sex marriage.
jsi/jil (AP, AFP)
Each evening at 1830 UTC, DW's editors send out a selection of the day's hard news and quality feature journalism. You can sign up to receive it directly here.