Following a two-day hearing, a court in Mogilev in eastern Belarus has ordered journalist Alexander Burakov to pay 500 euros for what it termed the "illegal generation of a product for the mass media."
The description was in reference to a report published under Burakov's name on the Russian pages of DW in August. In it, the journalist described how food traders on the Belarusian-Russian border manage to circumnavigate Russia's import ban on EU produce.
The judge presiding over the trial did not explain the exact nature of the journalist's offense, but prior to the hearing, Burakov was accused of reporting for DW without the required accreditation.
Not a one-off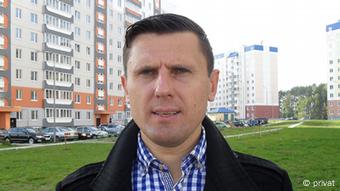 Burakov was among several journalists who faced charges for reporting from Belarus
Several journalists working for foreign media outlets in Belarus have been hit with similar charges in recent weeks. On Tuesday, a court in the western city of Grondo ordered a journalist to pay a find of around 400 euros for a report produced for Polish radio.
Minsk requires journalists working in Belarus to obtain an accreditation from the foreign ministry. But they are notoriously difficult to get and prohibit journalists from working for other media in Belarus.
OSCE Representative on Freedom of the Media Dunja Mijatovic has repeatedly criticized the policy. "An accreditation should not be a kind of reporter permit, or restrict freedom of opinion," she told DW.
During a visit to Minsk last month, Mijatovic called for regulation to be amended. "It would be a decisive step towards reducing the pressure under which journalists in Belarus work," she continued.
Plans to appeal
On the day of her visit to Belarus, five militiamen searched the Mogilev flat where Burakov lives with his parents, and seized computers as evidence.
"What they did bears no relation to the offence of which I was found guilty," he told DW. Burakov, whose court file runs to 120 pages, has rejected all charges and says he plans to appeal.
In an interview with DW, Christian Mihr, head of the German division of Reporters Without Borders, denounced the court ruling.
A freelance journalist, Burakov had been active for several years, including for DW's Russian department. One focus of his work was the human rights situation in rural Belarus.