On Musa Cakilli's 18th birthday, a thick letter arrived at his home in Rüsselsheim. The authorities were asking him to decide which citizenship he wanted. Cakilli's parents come from Turkey - and so he carried both German and Turkish passports. As the law stood, he had until his 23rd birthday to choose one or the other. But the economics student didn't want to give up either. "They're both part of my identity," he said. Instead, Cakilli took his case to the Administrative Court of Darmstadt.
Many of his friends are Greeks, Italians and Swiss - and they all were able to retain their two passports. That's because dual citizenship is allowed for EU and Swiss nationals. It is also tolerated for people whose countries of origin do not allow them to renounce their citizenship. These include Iran, Algeria, Syria and several Latin American countries. "I thought it was really unfair," the now 21-year-old recalled, saying he felt "rejected."
Strings attached
In July, however, he withdrew his suit after the government agreed to change the citizenship law. This Saturday (20.12.2014) the regulation will take effect - and will thus eliminate "the absurd situation that someone is made a foreigner when they turn 18," as German Integration Commissioner Aydan Özoguz put it. The Social Democrat politician of Turkish origin estimates that around half a million young people will take advantage of the new scheme, which she called a "very important law."
But certain restrictions will apply: To obtain dual citizenship, children of foreign parents must have been raised in Germany. This means that by their 21st birthday, they must have lived eight years in Germany, attended a German school for six years or completed vocational training. A school diploma or training certificate is required as proof. Those who do not meet these requirements will still have to choose a single citizenship as before.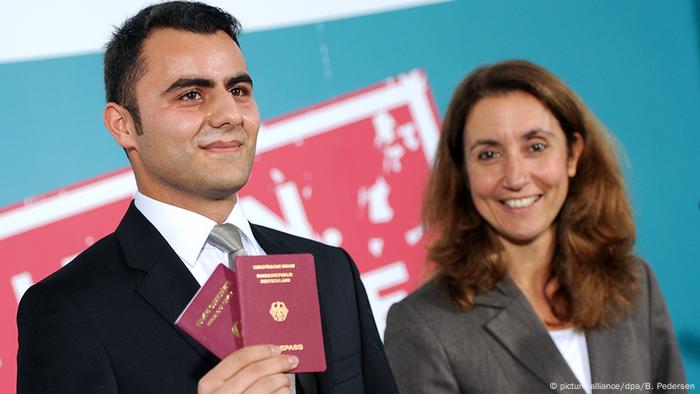 Turkish delight: Musa Cakilli shows off his two passports as Integration Minister Aydan Özoguz looks on
These requirements have long been a point of contention for the opposition, which wants the citizenship decision to be abolished. Özoguz said she understood the criticism, saying "in my opinion, you shouldn't have to make a choice" - even if, she said, almost all the affected young people meet the requirements for dual citizenship.
Not necessarily retroactive
Asked what he thought of the new citizenship law, Cakilli said the new requirements were still discriminatory because not everyone meets them. He said whoever wants German nationality should be able to earn it.
Cakilli said it was unfair that the legislation does not automatically apply retroactively, even though those who were previously denied German citizenship may now reapply for it. His older sister Hatice, who is 24, had to choose between Germany and Turkey a few years ago. "She thinks it's unjust, of course, and is annoyed about it," he said.
But overall, Cakilli said, he was happy about his dual citizenship: "I feel accepted."