Dozens of people were arrested at anti-government protests in Moscow on Saturday, December 31.
Interfax news agency said the police reported making 60 arrests, while opposition activists put the number at 70.
The demonstration, attended by some 200 people, was one of a series of regular protests held on the 31st of a month to highlight Article 31 of the Russian constitution, which guarantees freedom of assembly.
The protest had not been authorized by police.
Some 200 people also gathered at a protest in the central city of Nizhny Novgorod. No arrests have been reported.
Prominent arrest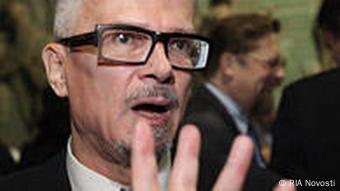 Limonov has been arrested on numerous occasions
Itar-Tass news agency reported that the radical leftist leader and author Eduard Limonov, who helps organize the monthly demonstrations, was among those arrested at the Moscow protest.
Limonov has often been detained at protests. He is to appear in court on January 16 over his role in the demonstrations.
Russia has seen unprecedented mass protests since a disputed parliamentary election on December 4 which saw Prime Minister Vladimir Putin's ruling United Russia party win by a narrow majority.
Protesters have accused the party of blatant election fraud. They also denounce Putin's 12-year domination of the political landscape.
"Unavoidable price of democracy"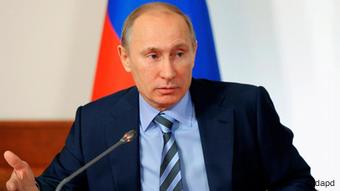 Putin says he wants transparent presidential elections
The 59-year-old Putin intends to return to the Kremlin as president at March 4 elections, swapping his present job with now President Dmitry Medvedev.
He was already president from 200-2008 for the two consecutive terms allowed by the Russian constitution.
He has described the protests in a televised New Year's message as the "unavoidable price of democracy," saying they were "nothing unusual."
He also wished all Russians well-being and prosperity "regardless of their political persuasion."
Author: Timothy Jones (dpa, AFP, AP)
Editor: Toma Tasovac