Police in Bonn looking for terrorists who planted a potentially devastating bomb at the city's main train station don't have an image of who did it because no closed-circuit television (CCTV) captured the event. In Berlin a man was savagely beaten to death in a main square, again with no camera footage to help police catch the perpetrator.
Now German government ministers are calling for more and up-to-date surveillance equipment in the country's public spaces, while critics warn of a knee-jerk reaction infringing on civil liberties.
The arguments echo those that have long been bouncing back and forth between supporters and opponents of CCTV in the UK - the country with the highest CCTV density in the world, according to some statistics. One recent report estimates there are just under two million surveillance cameras in the UK - one for every 32 people.
"In Britain we seem to have seen CCTV as an end in itself, when in reality it's a very, very small part of the overall approach to policing," Nick Pickles, head of Big Brother Watch, a pressure group fighting for the protection civil liberties, said in an interview with DW.
"Despite the millions of cameras, Britain's crime rate is not significantly lower than comparable countries that do not have such a vast surveillance state," he added.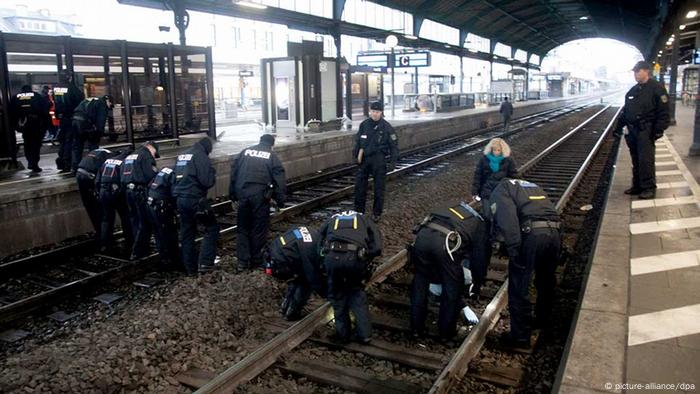 Investigators have been hampered by the absence of video footage from platform 1 at Bonn's main station
Decades of surveillance, uncertain results
CCTV systems have been widely used in the UK since the 1970s, when they were considered important tools in the fight against republican Irish terrorism from groups like the IRA in mainland Britain. Since then there have been two main arguments for video surveillance - as a deterrent to crime and as an aid to identify and prosecute perpetrators.
Several academic studies have suggested camera surveillance can reduce criminal activity in some public spaces, for instance parking lots, by up to 50 percent. Yet in other public spaces the reduction in crime ranges from small to insignificant.
Some reports also suggest that surveillance has had little impact on the solving of crimes. In 2008 senior London police officers warned CCTV didn't solve more than three percent of crimes in the capital city, and that CCTV images were of little help during court cases.
"Billions of pounds has been spent on [CCTV systems], but no thought has gone into how the police are going to use the images and how they will be used in court," Mick Neville, a senior London police chief, told an international conference on security in 2008.

"It's been an utter fiasco ... There's no fear of CCTV. Why don't people fear it? [They think] the cameras are not working," he said.
CCTV arrest 'success'
Yet some local authorities still swear by CCTV and say it's crucial for both preventing and solving crimes.
Over 90 days between August and November this year the city of Salford in northwest England used its state-of-the-art CCTV system to make 67 arrests.
"This is a fantastic result in our joint fight against crime," said David Lancaster, the deputy mayor of Salford.
"Our camera operators work hard to spot problems on the streets and are also linked to police radios so they can help search for missing or wanted people. They can also contact officers to direct them to suspicious activity or call for assistance if they see an offence being committed," said Lancaster.
Salford's CCTV network is considered to be one of the UK's most advanced, and has come at a considerable cost. Other local councils, facing severe budget cuts as part of the UK government's austerity drive, are looking closely at the cost-effectiveness of investing in CCTV systems.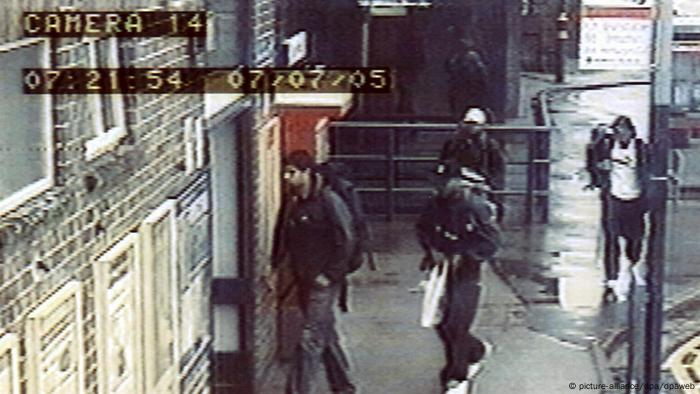 CCTV footage helped identify the 7/7 bombers, though all four suspects were killed in the blasts
The price of crime
This month Cambridge city council in southeastern England was confronted with figures showing each crime caught on camera cost almost 7000 euros, when the cost of installing and running the city's CCTV system was set up against the number of crimes that had been recorded by it.
Critics, like Nick Pickles from Big Brother Watch, say that money could be much better spent on more patrolling police officers.
"Rather than being a tool, [CCTV] has in a lot of cases become a substitute for policing. So people very rarely see a bobby on the beat [a police officer patrolling the streets], but they do see CCTV cameras," said Pickles.
"The danger is that there is almost an acceptance that crime is going to happen. So rather than trying to prevent crime you just focus on making sure you have video footage of it when it happens."
As long as firm evidence for the success of CCTV is lacking, criticism against the perceived intrusion of people's privacy looks set to prevail. Recent technological developments allow cameras to detect individuals' faces in a crowd, further worrying civil liberty groups.
In an apparent attempt to assuage some of these fears, the UK's current center-right government recently appointed a surveillance camera commissioner to oversee a new voluntary code aimed at giving the public more power to challenge the use of CCTV by police and local authorities.