President of the European Council Donald Tusk said on Wednesday an extension of the Article 50 process was possible — if the UK votes to approve the twice-rejected Brexit deal.
"I believe that a short extension will be possible. But it will be conditional on a positive vote on the withdrawal agreement in the House of Commons," Tusk said in a press conference.
"Although Brexit fatigue is increasingly visible and justified we can not give up seeking, until the very last moment, a positive solution.
"We have reacted with patience and goodwill to numerous turns of events and I am confident now we will not lack the patience and goodwill [at] this most critical point in this process."
Tusk said on Wednesday that the EU will not be renegotiating the deal, which took 18 months to finalize.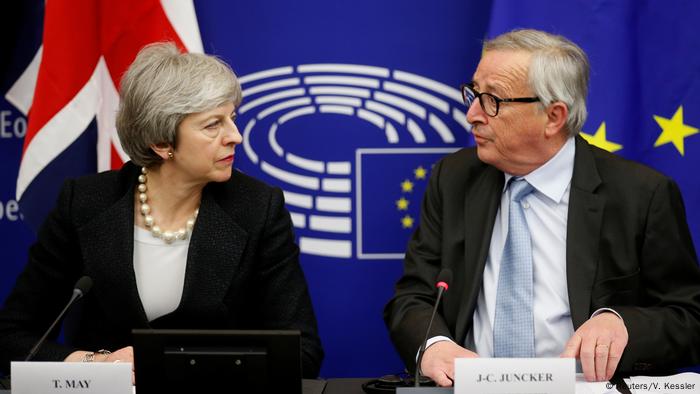 Theresa May with European Commission President Jean-Claude Juncker in Strasbourg
European leaders respond
German Chancellor Angela Merkel's spokesman Steffen Seibert told reporters in Berlin: "We welcome the fact that there is now a clear request from Britain," adding a no-deal Brexit "would be in no one's interest."
"A postponement makes sense if it leads to an orderly Brexit," Foreign Minister Heiko Maas told Germany's Funke media group. "If there is a real chance, then I think a lap of honour is justifiable," he said of a delay. "There can only be a solution on the basis of the Withdrawal Agreement," Maas said. "But it is also clear that it is especially important to us that the European elections run properly."
French Foreign Minister Jean-Yves Le Drian mirrored his German colleague's comments: "The purpose of the delay is to finalize the ratification of the deal already negotiated" and the deal "won't be renegotiated."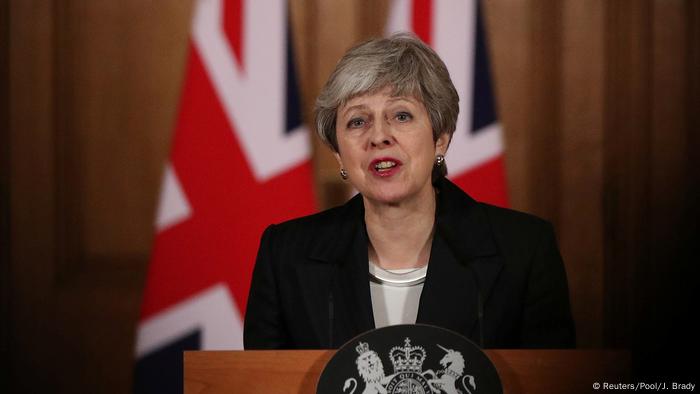 Theresa May makes her appeal to British voters
May blames parliament
In a televised presentation on Wednesday evening, British Prime Minister Theresa May made a direct appeal to voters saying the request for a three-month delay was "a matter of great personal regret for me" – and she would not countenance a longer extension of article 50.
May said she shared the frustrations felt by many who have "had enough" of endless Brexit debates and party infighting. The prime minister did not accept she had played a role in causing it, but instead blamed parliament for the deadlock. She warned that if lawmakers did not back her deal it would cause
"irreparable damage to public trust." She added: "It is high time we made a decision."
But the deal twice refused in parliament still faces opposition, members of her Conservative party warned her in a private meeting on Wednesday. She also faced calls for her resignation.
A cross-party meeting of MPs to discuss the next steps for Brexit ended in disarray as Labour leader Jeremy Corbyn walked out when he found a former-Labour member, Chuka Umunna of the breakaway Independent Group was in the room.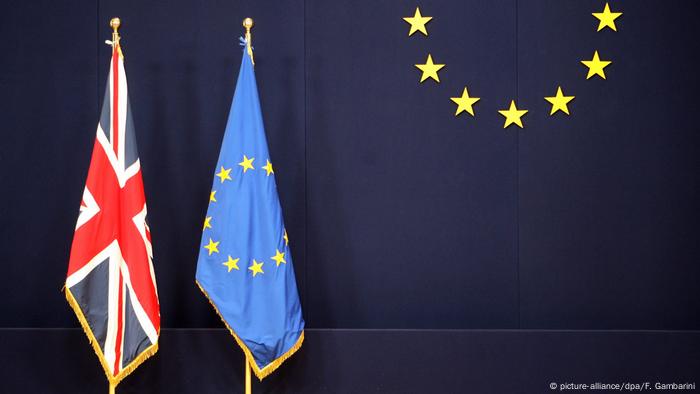 UK and EU flags
May goes to Brussels
On Thursday, May travels to Brussels to make her case for the delay.
If she is given some indication of approval from the EU leaders, May will try to find a way to get her deal presented and approved in parliament — perhaps on Monday. Last time it was rejected by 149 votes, and the time before by a record 230.
If the vote fails, it could lead to either a no-deal exit on March 29, or the offer from the EU of a longer extension if the UK changes its plans, or a withdrawal of the Article 50 notice. An online UK Government and Parliament petition for the latter option and staying in the EU had the backing of over 355,000 signatures by early Thursday.
Every day, DW's editors send out a selection of the day's hard news and quality feature journalism. Sign up for the newsletter here.