A selection of Deutsche Bahn's security personnel will be given body cameras in a new trial to improve safety, according to a German media report on Sunday.
Some of the rail operator's 3,700 security guards will begin wearing cameras with small monitors depicting a live feed, said the Sunday edition of the mass-market "Bild" newspaper. Staff carrying the cameras will also wear vests saying "video surveillance" to notify customers.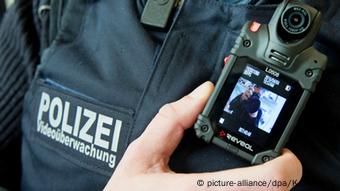 Rail staff will wear cameras displaying a live feed on mini monitors
"Initial experience shows that the mini-monitors of body cameras scare perpetrators away," Deutsche Bahn security chief Hans-Hilmar Rischke told "Bild."
Bahn employees were attacked 950 times in the first half of 2016 - a 10 percent rise since the year prior. Most of the attacks targeted security personnel.
This year, the company is set to spend 160 million euros ($176 million) on security for staff and customers.
Security staff in Berlin's major train stations will be the first to test the cameras before being sent to other areas of Germany.
Body cameras, which are used widely among police in the United States, are also being tested on German police forces. This spring, Germany's government agreed to equip federal police officers with body cams, while state police forces are also beginning to adopt them.
rs/sms (AFP, dpa)