Tillich preempted anti-foreigner rallies due on Saturday in European cites including Dresden, the capital of Germany's conservative-run regional state of Saxony, by calling on prosecutors to intervene against hate speech used by far-right leaders.
During speeches, Pegida organizers were increasingly resorting to open hostility toward foreigners and politicians, Tillich told Germany's Funke Media Group.
The concern, whose post-war origins lie in the Westdeutscher Allgemeine Zeitung (WAZ) newspaper based in Essen, also has outlets in Austria, Hungary and Croatia.
"We must show Pegida and its supporters that transgressions of the law will have penal consequences," said Tillich (pictured above (R) last August).
"State attorneys are increasingly required to act. Pegida can no longer smooth over its rhetoric," he said.
Saxony's premier said differentiations needed to be made between Pegida's leaders and its followers, who he said were expressing multifaceted societal frustration.
"Our challenge is to draw the followers back into dialog. In democracy one resolves conflict with arguments," said Tillich, whose Saxony region has been the scene of numerous anti-foreigner incidents.
Pegida origins in Dresden
Pegida, a German-language acronym for Patriotic Europeans Against the Islamization of the Occident, emerged in Dresden in late 2014.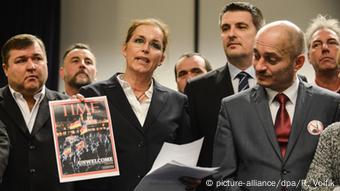 Pegida's Tatjana Festerling (M) amid planners in Roztoky
A meeting of far-right leaders to plan Pegida's rally due in Dresden on Saturday and simultaneous far-right gatherings in other European cities was hosted last month by a Czech group "Bloc Against Islam" in Roztoky, a city near Prague.
Saxony, which lies adjacent to the Czech Republic, has a population of four million of which 105,000 or 2.6 percent arelisted as foreign residents, according to Germany's federal statistics office Destatis.
Attacks on refugees, shelters 'worrying'
Tillich, a senior ally of Chancellor Angela Merkel, whose conservatives govern at federal level with the center-left Social Democrats (SPD), said the utmost must be done to also prevent further attacks on refugees.
"The large number of attacks on refugee accommodation and on refugees must worry us," Tillich said, adding that authorities must react promptly.
On Friday, Dresden prosecutors announced that charges of arson and willful damage had been lodged against two men, aged 38 and 41, seven months after a multistory apartment block being readied for refugees was set ablaze.
The arson attack took place in Saxony's city of Meissen, which lies in the electorate of the federal interior minister, Thomas de Maizìere.
Last year, Germany's federal BKA investigative police registered 1027 offences against refugee shelters, including 177 acts of violence. From New Year's until early February, a further 57 offences were registered, including 14 violent incidents.
Saxony police last weekend registered four attacks on refugee shelters, including several in Chemnitz and Leipzig.
Standoff feared in Dresden
For Saturday, Pegida and like-minded groups planned rallies in 14 European cities, including Dresden, Prague, Amsterdam and Warsaw, under the title "International Demonstration against Mass Immigration and Islamization."
These were preceded on Saturday by a similar rally in Canberra, Australia's federal capital, attended by about 400 people.
Police in Dresden called in extra units from other German states to separate participants at the Pegida rally from a counter-demonstration to propagate open society and tolerance called by representatives of churches, trade unions and numerous political parties.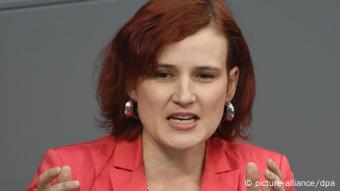 Tillich's CDU blind to far-right, claims Kipping
Tillich's CDU 'jointly responsible'
Opposition Left party co-leader Katja Kipping, who herself comes from Dresden, told the news agency AFP ahead of Saturday's events that the Saxony branch of the Christian Democratic (CDU) party led by Tillich was "jointly responsible" for Pegida's emergence.
Instead of maintaining a clear stance against anti-foreigner activities, Saxony's governing party had obstructed and criminalized opponents of the far-right scene, Kipping said.
"Pegida stands for the termination of every form of empathy and common humanity, and that's why it's important to make a stand," she said while calling for the public to back counter-demonstrations.
On Friday, German Vice-Chancellor and SPD leader Sigmar Gabriel said the far-right in Germany was using rhetoric "very close to the language of the enemies of democracy, the Nazis of the '20 and '30s."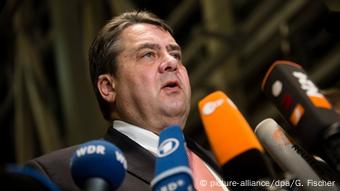 Gabriel says far-right rhetoric recalls Nazi era
Gabriel was addressing an Berlin gathering to promote integration.
In her weekly video podcast Saturday, Merkel urged refugees arriving in Germany from war zones in Iraq and Syria to actively integrate and learn German. She also backed calls for tighter control of the EU's external border.
Populist AfD on rise
Pegida is closely linked with the Alternative for Gremany (AfD) party, variously described as populist and far-right, which has capitalized on the arrival of more than 1 million asylum seekers in Germany over the past year.
Voter surveys show the AfD gaining traction in recent months to become the third political force behind the two mainstream parties in Merkel's grand coalition.
The test will come on March 13 with regional assembly elections in three regional states - Baden-Württemberg, Rhineland-Palatinate and Saxony-Anhalt.
Last weekend, leading German Catholic bishop Reinhard Marx urged Europe not to fall back into nationalized mindsets.
ipj/tj (APF, dpa, epd, Reuters)