Ukrainian pilot Nadiya Savchenko arrived in Kyiv after leaving Russia aboard a Ukrainian presidential plane on Wednesday as part of an unexpected prisoner exchange, Ukrainian and Russian officials have confirmed.
Speaking to the press shortly after landing, Savchenko said she was "ready once again to give my life for Ukraine on the battlefield."
Kremlin spokesman Dmitry Peskov said she had been officially pardoned by Russian President Vladimir Putin.
Earlier, Russia's Interfax news agency reported that Ukrainian President Petro Poroshenko was en route to attend the exchange at the airport of Rostov on Don in Russia.
Kyiv traded in two Russian prisoners, Yevgeny Yerofeyev and Alexander Alexandrov, for the pilot. Both of the Russians reportedly arrived in Poroshenko's presidential plane.
Putin later said he had given his pardon out of "humanitarian concerns."
Ukraine claimed that the two Russian prisoners were military intelligence agents. They were found guilty of terrorism charges and waging war in eastern Ukraine and received 14-year sentences last month.
After her return, Poroshenko vowed to retake Crimea, which was annexed by Russia in 2014, and the rebel-held territory in the east of the country.
"Just as we brought back Nadiya, we will bring back Donbass and Crimea under Ukraine's control," Poroshenko said.
The news of Savchenko's release was welcomed in Europe, where EU Foreign Minister Federica Mogherini hailed the "long-awaited good news" and German Foreign Minister Frank-Walter Steinmeier said he was "happy and relieved" the pilot was freed.
Sentenced for murder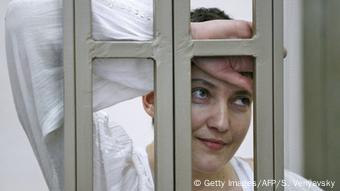 Savchenko sang Ukrainian national anthem at her sentencing in March
Savchenko, who is a military pilot, volunteered to fight in a ground unit against pro-Russian rebels in eastern Ukraine. She was captured in 2014 and eventually convicted to a 22-year sentence for her role in the deaths of two Russian journalists.
The Kyiv-born soldier denied any wrongdoing and protested her verdict with a hunger strike. She also became a national hero in Ukraine, even winning a parliament seat while still in Russian jail.
Putin and Poroshenko discussed a possible prisoner swap last week, with the fates of Savchenko, Alexandrov and Yerofeyev being "touched upon" according to the Kremlin.