Moscow said the topic came up in a phone call between the two leaders Monday, the same day two Russians were sentenced to 14 years in prison for fighting in Ukraine's rebel east (court hearing pictured).
Their jailing follows the conviction of Ukrainian pilot Nadezhda Savchenko, who last month was found guilty in connection with the murder of two Russian journalists in eastern Ukraine. She is now on hunger strike.
"The issue of Nadezhda Savchenko as well as the fate of Russian nationals Alexander Alexandrov and Yevgeny Yerofeyev has been touched upon," the Kremlin said following the phone call.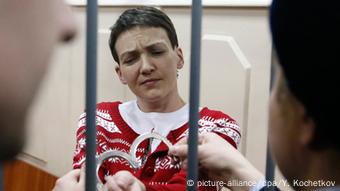 Ukrainian pilot Nadezhda Savchenko
The statement added that Ukraine's consul general would "soon" be allowed to visit Savchenko in prison, due to her failing health. The Kiev government has urged Moscow to allow foreign doctors to examine her.
Analysts said the conversation moved forward a possibility of a prisoner swap, which was mooted by Ukrainian President Petro Poroshenko.
Deal days away?
Kyiv once again urged Moscow to "immediately" free Savchenko, who received a 22-year sentence, and whose trial Poroshenko described as "a farce."
The 34-year-old Savchenko - who has become a national hero at home - began refusing all food and liquids in protest at her sentence on April 6.
But her release could be complicated by her refusal to admit any wrongdoing. Russian law says that foreign convicts may only be sent home to serve their time once they confess.
Meanwhile, Russia says the two soldiers - Alexandrov and Yerofeyev - had resigned from active duty before crossing into the war zone of their own free will.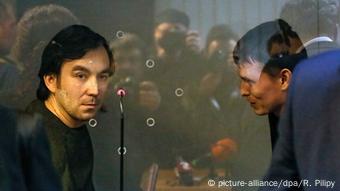 Russian nationals Yevgeny Yerofeyev and Alexander Alexandrov
Kyiv insists the duo were serving as members of an elite Russian military intelligence unit when they were captured in the pro-Moscow separatist region of Luhansk in May 2015.
The trials are the latest in a standoff between Russia and Ukraine after pro-Moscow-backed rebels seized large areas of eastern Ukraine in April 2014. Russia has denied sending troops to fight in the conflict. At least 9,100 people have been killed since then.