Gwyn Nissen is relaxed. The importance of the Danish People's Party (DF) should not be overestimated, he says. "Compared with other right-wing populist parties in Europe, DF is a light version." The editor of the German-language Danish newspaper "Nordschleswiger" says the DF appears more moderate than similar parties elsewhere and is therefore a special case when it comes to the modern European right, he said.
Nevertheless, the performance of the EU-critical party in municipal polls on Tuesday (19.11.2013) will be watched from far beyond Scandinavia. A successful result for the DF would be a small, but strong, signal for rising parties on the right in other European countries.
Rebound on the right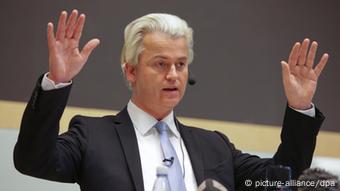 Geert Wilders is one of Europe's most prominent right-wing politicians
Six months before elections to the European Parliament in May, these parties are concentrating their forces. Last week, Geert Wilders of the Netherlands and France's Marine Le Pen met in The Hague to propose a joint parliamentary group for all parties on the right in the European Parliament. Both politicians are riding a wave of success in their countries, at times even leading in opinion surveys.
Should they be able to form a viable group in the new European Parliament, they would not only get more money from the EU budget, but also earn the right to present resolutions. That would potentially allow these euroskeptic parties to block the parliament's political work. A group in the European Parliament must have at least 25 members from seven countries.
Parties with differing roots
Political scientist Kai Arzheimer of the University of Mainz doubts that the right-wing populist parties will be able to form a coherent group. "Past experience shows that it is very difficult for them to come to a lasting partnership." Six years ago, one such attempt failed after just ten months. Then, Italian politician Alessandra Mussolini, granddaughter of her country's wartime dictator, came into conflict with five parliamentarians from Romania. Newspaper reports said members of the Greater Romania Party accused her of "comparing Gypsy criminals with the entire Romanian population."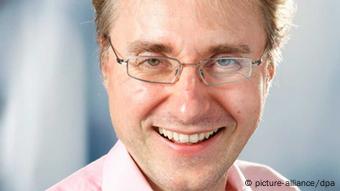 Kai Arzheimer says lasting partnerships between populist parties are difficult
Arzheimer says one cause of such pointless strife is the difficult personalities of many far right politicians: "They usually have a big ego." But differences in political roots can also lead to a failure to cooperate. France's National Front originated in a heavily Catholic environment and was characterized by a pro-colonial stance, he said. "In the early years there were also links to French right-wing terrorism."
The Danish DF is free of this historical burden and therefore also follows a more cautious approach, he said. The Danish party has already made clear that it would not join a populist alliance in the European Parliament.
Joining the government through adroit negotiations
There are many potential areas of conflict. One of these is the issue of free trade. "Le Pen has protectionist tendencies," Arzheimer said. The DF, on the other hand, supports free-market positions. But the Danish party should not be underestimated: "The DF draws a lot of support for its opposition to immigration, but also because of its anti-Islamic stance." The party was highly vocal in the 2005 conflict over cartoons of the Islamic prophet Mohammed, which it said was a watershed in the fight for freedom of expression in the West.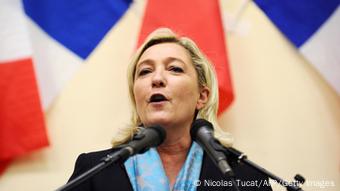 Marine Le Pen took over the National Front from her father
By that time, the DF had already become part of the political establishment in Denmark. From 2001 to 2011 it supported the conservative-liberal minority government. That makes it electable for many Danes, Nissen said.
In polls ahead of local elections it is drawing between 8 and 12 percent of potential voters in large municipalities.
That makes it Denmark's fourth-largest party, behind the Liberals, the Social Democrats and the Radical Left Party, a strong position in the relatively fragmented party landscape in Denmark.
In Aarhus, the second-largest city, DF is polling 11.7 percent. Nissen says it is possible the party could join the municipal government there. "At the local level, there is a very broad scope to gain a majority in Denmark. " This means that in practice politicians swap ideology for jobs after the election is over. It is even conceivable that Aarhus could soon have a DF mayor.