Darmstadt tend not to do anything the simple way, so perhaps it was fitting that they sealed promotion to the Bundesliga with a late goal in a nail-biting 1-0 win over St. Pauli on the final day of the season.
The Lillies, as they're known, have seen a lot of ups and downs in their 117-year history. Three facts that you you should know are that they're one of the oldest licensed clubs in Germany, they beat French champions Club Athlétique de Vitry 5-0 in 1910 and they were re-constituted six months after the end of World War II, only to see their stadium requisitioned by occupying US troops
Their first go at the Bundesliga came in 1978 with a more than reputable 1-1 draw at Bayern Munich thanks to a special goal late on in the match. But the Lillies went down at the end of that campaign, and although they returned to the top flight two years later, they again immediately went down in 1982.
By that point, the club was deeply in debt. And throughout the next 33 years, Darmstadt looked more likely to fold entirely than to ever return to Germany's footballing elite.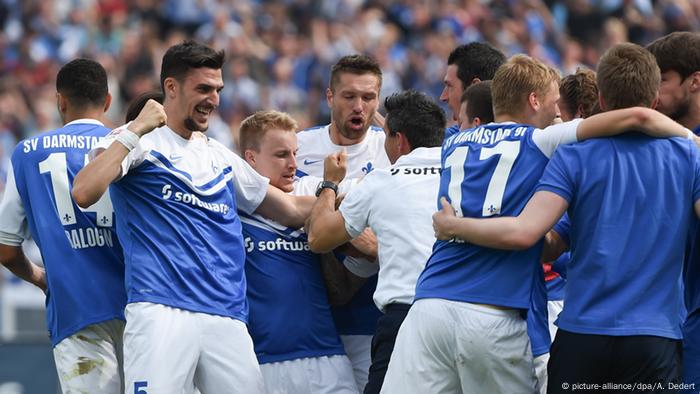 Darmstadt, which is near Frankfurt, is celebrating a return to the Bundesliga after 33 years
Two years, three divisions
Darmstadt sank down to the fourth division and although they subsequently clawed their way back up to the third, they should have been subject to another drop after failing to win a do-or-die final matchday clash in the 2012-13 season. But financial irregularities meant that local rivals Kickers Offenbach couldn't secure a third-division license and were relegated instead.
Darmstadt rebounded in 2013-14 and finished third in division three, qualifying them for a playoff against Arminia Bielefeld. The tie played over two legs didn't start well, with Darmstadt going down 3-1 in their own stadium. Normally that would have meant lights out due to the away-goals rule.
But the return fixture in Bielefeld ended 3-1 for Lillies after 90 minutes, necessitating extra time. Bielefeld got a goal, but Darmstadt also scored in the second minute of injury time to achieve promotion to division two. Compared to that heart-stopper, this season's rise to the top flight seems positively languid.
In a sense, the Lillies are the only team to have been promoted from division four to division one in only two seasons.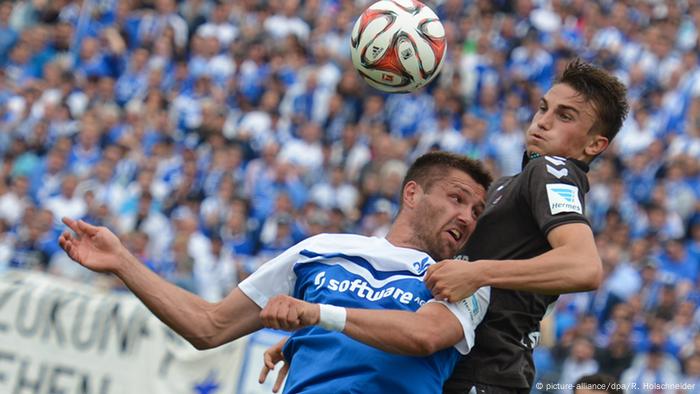 Darmstadt's promotion was built on putting in the hard work
The new Paderborn?
"I have no words for what we've achieved this season," Darmstadt coach Dirk Schuster said after the St. Pauli match. "Week for week the guys have given everything, down to their blood, for the club. That's why things worked out."
But when the champagne, or perhaps currywurst-and-beer, hangovers have subsided, Darmstadt management will have some decisions to make. The Lillies are very much a team that made it to the top by dint of blood, sweat and tears in defense. Their top scorer this season was 29-year-old journeyman Dominik Stroh-Engel with nine goals. All told, Darmstadt scored just 44 times - joint eighth in division two. That will have to change if they are to have any hope of survival in the Bundesliga.
The Merck Stadium at Böllenfalltor has a modest capacity of 16,500. Expect Bundesliga-starved fans to rock that house when the big boys come to town - much as the fans of Paderborn did this season. Unfortunately, if this Bundesliga season taught us anything, it's that passion isn't enough. The Lillies are going to need a lot of luck and some wisdom within the transfer market if they're to become perennials and not occasionals in the Bundesliga.