Having failed to clinch promotion last weekend, Ingolstadt were feeling the heat, and Sunday's fixture didn't get off to a promising start for them, as Leipzig's Dominik Kaiser drew first blood inside five minutes.
But Ingolstadt got a bit of help from the referee who awarded them a penalty shortly before half-time for a too stern aerial challenge by Anthony Jung on Stefan Lex. Australian Matthew Leckie slotted into the middle of the net from the spot.
Knowing that a point would be enough for promotion seemed to settle down the Bavarians. They controlled the match in the second half, and Lex sealed the 2-1 with a goal in the 77th minute.
"I'm just going to go with flow," Ingolstadt's Austrian coach Ralph Hasenhüttl said after the game. "I know that my guys know how to party."
Ingolstadt will be joining the German footballing elite this summer for the first time in the team's history. But what sort of a new addition is the Bundesliga getting?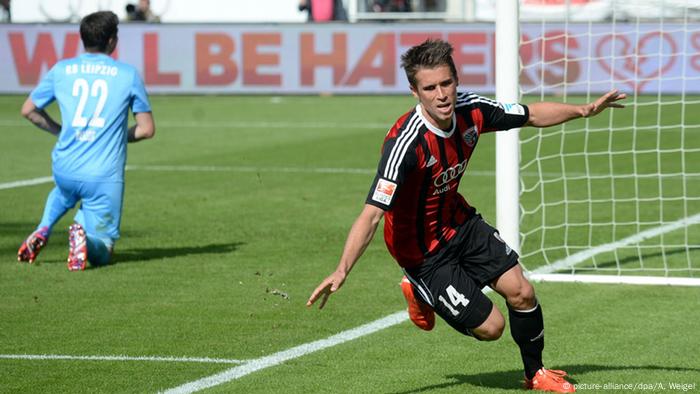 Stefan Lex was the man who scored the goal that put the champagne on ice
Small city, big backer
The city of Ingolstadt has only 130,000 inhabitants, which will almost certainly inspire some sports journalists to write of a small-town club. That's hardly the case. The football team is backed by Audi, the carmaker that has its headquarters in the city and that owns a 20-percent share in the team. So FC Ingolstadt 04 is more a "corporate" entity comparable to Hoffenheim or RB Leipzig than a "traditional" Verein like Kaiserslautern, Darmstadt or Karlsruhe, which are still competing for promotion.
The club was formed in 2004 when fourth-division MTV Ingolstadt 1881 merged with seventh-division ESV Ingolstadt-Ringsee. Unlike Hoffenheim, the Bavarians didn't march their way up to the first division with consecutive promotions. Indeed as recently as 2010 they were still in division three playing in front of crowds of 3,500. Before this season, Ingolstadt had never even finished in the top half of division two.
The upswing in their fortunes coincided with the arrival of Hasenhüttl in October 2013. Under his guidance, the Bavarian club set the second-division record for the most consecutive away games without a loss. Ingolstadt didn't blow opponents away. Even this season, they've only averaged a bit more than 1.5 goals a game and have drawn 12 times. But they've also only lost four matches, which is a big reason why they secured promotion.
One of Ingolstadt's stand-out performers is midfielder Pascal Gross. A product of Hoffenheim's youth division, he had "journeyman" virtually tattooed on his forehand, but this year the 24-year-old has made a quantum leap, providing a whopping 21 assists. The leader of the back four is 30-year-old Marvin Matip, the older brother of Schalke's young defensive talent Joel Matip. Goalkeeper Ramazan "Rambo" Özcan, a Turkish-Austrian, also tended goal for Hoffenheim in the season when they achieved promotion to the top flight.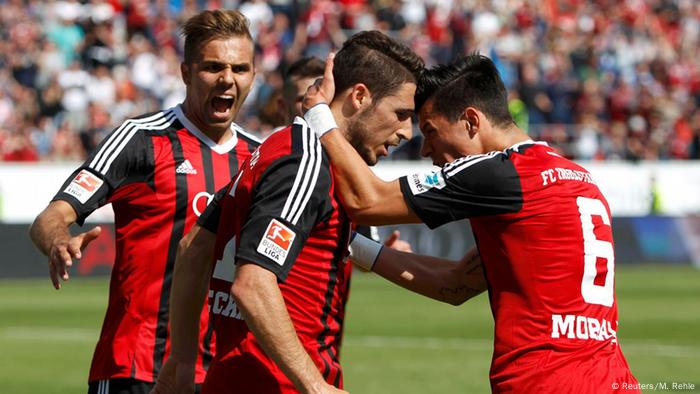 Ingolstadt will debut in the first division next season
A debate about tradition
With Ingolstadt now joining Hoffenheim in the Bundesliga, the debate will intensify about the role of corporate money in German football. Heribert Bruchhagen, the chairman of Eintracht Frankfurt, is one of the critics.
"Pretty well everyone is surprised that a club like Ingolstadt can make a run at the Bundesliga and may - depending on Audi's commitment - become a major player in the long term," Bruchhagen said in recent interview with the German television station WDR. "And that's another indication that the traditional clubs of the Bundesliga feel under pressure from corporate-sponsored entities masquerading as factory clubs."
Ingolstadt rejects such criticism, saying other teams are just jealous.
"We've achieved in the past 11 years what other clubs used to speak of taking 30 or 40," Ingolstadt Managing Director Narald Gärtner told WDR."That's why there's all this talk about 'traditional' clubs - here we're writing our own history."
Audi pumped 25 million euros into Ingolstadt's stadium, but Gärtner argues that such investment should be seen positively.
"Does Audi play football?" he asked in the WDR report. "Ingolstadt plays football and we concentrate on the business of football, and we're trying to establish ourselves in the league. In sports we should be generally proud of the fact that companies like VW and Audi are involved in the game, because without this commitment by the sponsors top level sports would be impossible."
But there's no questioning that part of Ingolstadt's promotion was down to Audi's support, including a kit sponsoring deal worth a reported 6.5 million euros. Much to the ire of traditionalists, Ingolstadt and Audi will become integral parts of the German first division next season.