The top match of the day pitted Stuttgart against Hamburg. Hosts Stuttgart were in last place, so three points were a must against HSV, who had worked their way up to 14th over recent weeks.
Stuttgart were the more aggressive side, but Hamburg took the lead after 12 minutes, when Gojko Kacar - the Northern Germans' savior in the last two games - headed in a Rafael Van der Vaart free-kick.
Falling behind only seemed to anger Stuttgart, though, and a quarter of an hour later Christian Gentner equalized. And eight minutes later, Heiko Westermann accidentally headed on a corner to Martin Harnik, who made no mistake from seven meters out.
Hamburg were anemic in the second half, and Stuttgart spurned a host of chances, so the match ended 2-1.
"My only complaint is that they didn't use their opportunities," Stuttgart coach Huub Stevens told reporters.
Stuttgart shot up to 16th and the playoff spot with the win. They take on Paderborn on the final matchday next week, and a win would secure their survival. Hamburg are second-to-last and host Schalke next week.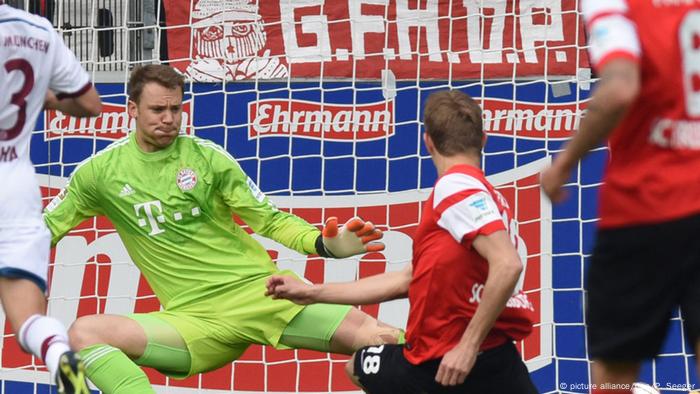 Substitute forward Nils Petersen struck in the dying minutes for Freiburg
Freiburg shock Bayern
Freiburg came into their home match against Bayern in 15th, and many people expected them to drop into the relegation zone after an inevitable Bavarian victory.
But there's nothing inevitable in football, even though Bayern looked to be heading to a win when Bastian Schweinsteiger scored in inside the first fifteen minutes. Freiburg kept their heads up, though, despite the deficit and 78 percent possession for the Bundesliga champions.
Admir Mehmedi leveled the score in just after half an hour had been played, and one minute from time Nils Petersen, who played for Bayern in the 2011-12 season, secured the improbable home win. Under coach Christian Streich, Freiburg have been the Bundesliga's escape artists, but saving their skins this season would be a positively Houdini-like feat.
"We played defensively because we had no other choice," Freiburg coach Christian Streich said. "We had luck on our side so we were able to win the game."
The 2-1 upset takes Freiburg up to 14th, and a point next week in Hannover would secure their Bundesliga status.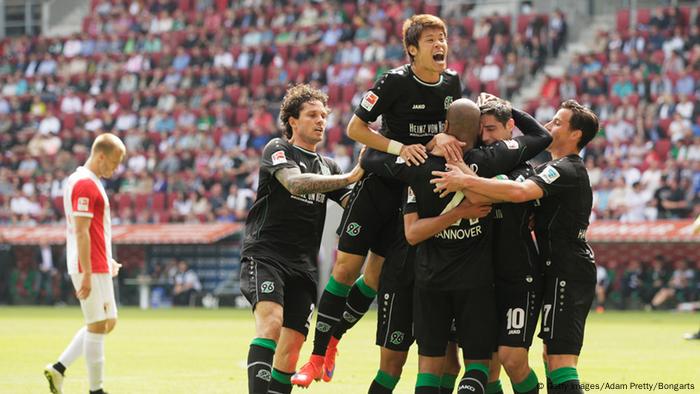 Hannover broke a winless streak dating back to last December
Hannover come up big in Augsburg
Hannover, the worst team in the second half of the season, finally got back on track with their opening win of 2015. Despite playing away at an Europa League aspirant, Hannover were the better side early on, and captain Lars Stindl put them ahead in after 24 minutes.
On the half-hour mark, Augsburg's Paul Verhaegh equalized with a panenka from the penalty spot after Hiroki Sakai had brought down Abdul Rahman Baba in the area. But Stindl struck again in just after half-time, poking home a precision pass from Jimmy Briand. The match ended 2-1, but Hannover can count themselves lucky that referee Felix Zwayer didn't punish a clear handball in the box by Sakai just after an hour had gone.
Sakai was sent off with a second yellow card twelve minutes from time, but Augsburg couldn't exploit their man advantage. Instead they had two players sent off themselves in the dying minutes.
"As you can imagine a number of weights have fallen from my heart," Hannover coach Michael Frontzeck said.
Hannover climb to 15th but could really use a win over Freiburg next Saturday since the Southern Germans own the much better goal difference.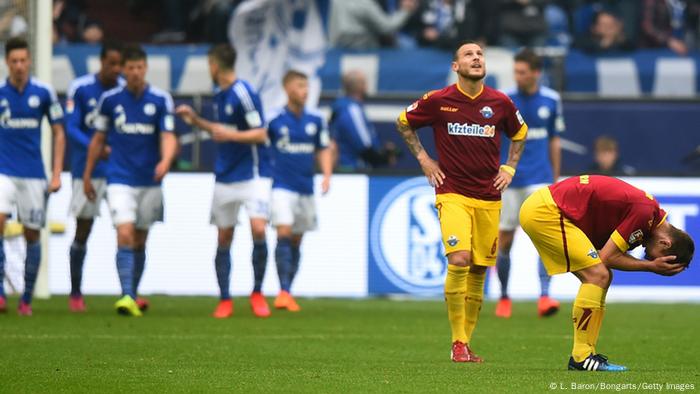 Paderborn couldn't believe their bad luck against Schalke
Paderborn on the brink, Hertha not safe yet
The biggest losers in Saturday's relegation battle royal were Paderborn, who outplayed Schalke in Gelsenkirchen but still walked away with a 1-0 loss. The Bundesliga's smallest club had 22 shots on the Royal Blues' goal but were undone by their own inaccuracy and a good performance by Schalke keeper Ralf Fährmann.
Two minutes from time, Paderborn captain Uwe Hünemeier was cast in the role of the tragic hero. The defender went up for an aerial duel with Klaas-Jan Huntelaar and accidentally headed the ball into his own net, gifting Schalke victory.
"We're very disappointed," Paderborn coach Andre Breitenreiter said. "We should have come away clear winners."
Paderborn drop to last in the table, but all is not lost. A win over Suttgart next week would take them up to 16th and the playoff spot, provided that Hamburg don't beat Schalke.
Finally Hertha played a goalless draw with Frankfurt. That result leaves Hertha in 13th place with 35 points. They need to avoid a clear defeat in Hoffenheim to be guaranteed Bundesliga football next season.
Stuttgart 2-1 Hamburg (Gentner 27', Harnik 35', Kacar 12'); Freiburg 2-1 Bayern (Mehmedi 33', Petersen 88', Schweinsteiger 33'); Augsburg 1-2 Hannover (Stindl 24', 54', Verhaegh pen. 30'); Schalke-Paderborn 1-0 (Hünemeier og 88'); Hertha Berlin 0-0 Frankfurt.