A court in Zagreb paved the way for a same-sex couple to foster children in Croatia, overruling a previous rejection by a child welfare center, according to Croatian media.
"We are overjoyed," one of the men, Ivo Segota, told the Jutarnji list daily.
Segota entered a so-called life partnership with Mladen Kozic in 2015. In 2017, they applied to become foster parents with the Zagreb Social Services Center.
"We were received very warmly and nicely … because Zagreb has a chronic deficit of foster homes, especially those who have the conditions and desire to foster several children, which forces the centers to separate biological siblings," Segota said.
Double rejection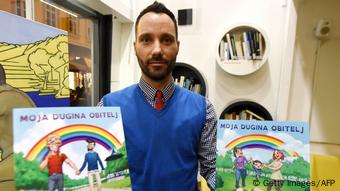 Ivo Segota is also the author of the picture book 'My Rainbow Family'
Despite successfully passing multiple tests, the center unexpectedly broke off communication and eventually rejected their plea. The provided explanation, according to Segota, was that there were no legal conditions for them to become foster parents as a life partnership couple.
The couple appealed the decision to the Family Ministry, but their appeal was rejected. They then sued against the decision.
Under Croatian law, same-sex marriages are not allowed. Life partnerships are equal with heterosexual marriages in all aspects except one — adopting children. The couple's attorney, Sanja Bezbradica Jelavic, argued that keeping the two from becoming foster parents amounted to discrimination.
The lawsuit argued the rights of children to have quality accommodation and care were also harmed by the center's decision.
"Because every child has a right to grow up in a family, and not an orphanage," said Kozic.
Battle for adoption
The Zagreb court sided with the plaintiffs and ordered the ministry to reach a different decision. The court's ruling is final and without possibility of appeal, lawyer Bezbradica Jelavic said.
"We believe that the authorities will honor the court's decision," she said.
The Social Services Center is obliged to act in accordance with the verdict, according to a report in newspaper Vecernji list.
Parallel to the legal clash over becoming foster parents, the couple is also battling a decision that prevents them from adopting children. The verdict is still pending.
Every evening, DW sends out a selection of the day's news and features. Sign up here.