A court in South Africa ruled on Wednesday that the government's plan to withdraw from the International Criminal Court (ICC) was "unconstitutional and invalid."
This is the second recent victory for the ICC in recent weeks after Adama Barrow, the new president of The Gambia, announced that his country would not be leaving the court, a pledge made by the country's former president Yahyah Jammeh. Burundi and Kenya are both still considering an exit.
South Africa announced in October that it would be pulling out of the court following a dispute over the failure to arrest Sudanese President Omar al-Bashir, who visited the country in 2015 despite an arrest warrant from the ICC over alleged war crimes.
"The cabinet decision to deliver the notice of withdrawal... without prior parliamentary approval is unconstitutional and invalid," said Judge Phineas Mojapelo in the North Gauteng High Court.
The president and ministers, the judge added, "are ordered forthwith to revoke the notice of withdrawal."
A political victory
The ruling is being celebrated by the opposition Democratic Alliance (DA), one of the groups who brought the case before the court.
"The withdrawal by the South African government from the ICC was irrational and unconstitutional," DA lawmaker James Selfie told AFP.
"We would like South Africa to stay in the ICC because we believe that it is consistent with our constitution and with the legacy of Nelson Mandela," he added.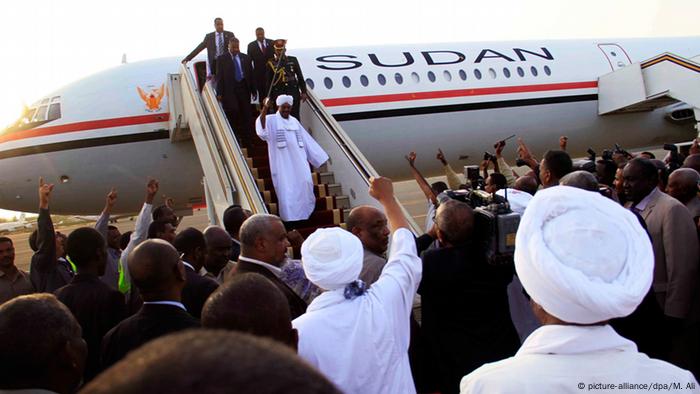 Sudanese President Omar al-Bashir returning from South Africa in 2015
The role of the ICC in Africa is a contentious one as currently nine out of the court's ten investigations concern African countries. However many of the investigations were referred to the ICC by the governments of those states, who are also signatories to the court.
The ruling also comes just three weeks after African Union (AU) leaders stated that individual AU countries should leave the ICC in favor of the African Court of Justice.
South Africa's justice minister, Michael Masutha, said the government would decide how to proceed including a possible appeal after reading the full judgment.
A blow to the government
A political analyst from the University of Pretoria, Tinyiko Maluleke, told DW that the news as devastating for the Zuma's government.
"This government has not been winning many cases that have been coming to the court against it," Mamuleke noted. "Perhaps they [the Zuma administration] are getting the message from the court that the constitution is important and it is important to abide by it."
Mamuleke said that the government has two options of either appealing or complying with the high court's verdict.
"The government cannot disobey a court order. The only way to disobey a court order is to appeal and that means getting the same court to allow you to appeal," Mamuleke said.
ot/ck (AFP, Reuters)