More than 200 supporters, journalists and diplomats gathered outside the courthouse in Beijing to wait for the verdict Friday and a large number of uniformed and plainclothes police were also present, but only Wang's family and lawyers were allowed to attend the hearing.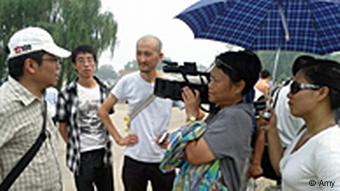 The trial against Wang began last month
"We were told that there was no space in the courtroom," one diplomat said. 55 year-old Wang plans to appeal against the sentence in the next ten days, her lawyer Han Yicun said.
Wang, who was also a part of China's historic pro-democracy movement at Tiananmen Square in 1989, was arrested in April this year after online calls for protests similar to the Arab Spring spooked the authorities, prompting a widespread clampdown on dissent.
A 'light' sentence
Rights groups say her detention was linked to her support for three activists in southeast China's Fujian province who called online for Chinese citizens to join these planned protests, which never materialized.
She has been in detention for nearly six months already and has a little more than three months left to complete her sentence, according to Chinese law, Han said. Wang went on trial last month.
The sentence is light compared with the five-year maximum penalty that could have stemmed from the charge. The government has frequently used this sentenced to silence anti-government protesters.
Policemen were deployed to keep protestors at bay
Support from the community
Wang has a number of prominent supporters, including artist and activist Ai Weiwei. In early August, Ai, recently released from detention himself, posted a message on his widely followed microblog on her behalf.
Advocacy group Chinese Human Rights Defenders (CHRD) said, "Sending Wang Lihong to prison suggests that the Chinese government feels quite confident to go after the less-known activists, to whom the international community has paid little attention," CHRD said in a statement.
Author: Manasi Gopalakrishnan (dpa, AFP)
Editor: Grahame Lucas