Austria is threatening unvaccinated citizens with lockdown measures if the country's intensive care capacity begins to see the sign of pressure from COVID hospitalizations.
The warning came after Chancellor Alexander Schallenberg met state-level leaders to discuss rising case numbers.
"The pandemic is not yet in the rearview mirror,'' Schallenberg said after the crisis meeting on Friday night. "We are about to stumble into a pandemic of the unprotected."
Should the number of intensive care patients reach 500 — or 25% of the country's capacity — entrance to businesses like bars and restaurants will be limited to those who are vaccinated.
If it increases to 600, then individuals who are not inoculated would only be allowed to leave their homes for specific reasons.
The number of coronavirus patients currently in ICU in Austria is 220.
Schallenberg said there were still too many "hesitators and procrastinators," and that he hoped the plans would send a signal. He dismissed a lockdown for those who had been vaccinated or recovered from COVID-19.
In the past week, Austria has reported 20,408 new cases of the virus. That brings the 7-day average to 228.5 per 100,000 inhabitants. A week earlier, the figure was 152.5 per 100,000.
Below are some other coronavirus headlines from around the world:
Europe
In Germany officials have seized hundreds of fake QR codes for digital COVID-19 vaccination certificates. They were allegedly being produced by a pharmacy employee and an accomplice. According to the Bavarian Central Office for Combating Fraud and Corruption in the Health Care System (ZKG) investigators took a woman and another suspect into custody.
The fake codes were understood to have been on sale since mid-August. Authorities also seized nearly 100,000 euros ($116,440) in cash and crypto currencies.
Romania will reintroduce night time curfews and make it compulsory to have health passes in order to enter public venues from Monday. The country is experiencing a surge in deaths and infections and the health system is buckling under the strain.
Just over a third of the country's adult population has been inoculated.
Russia continues to record daily record numbers of infections and deaths. In the latest figures from the national coronavirus task force, 1,075 people have died in the past 24 hours and there have been 37,678 new infections.
Only around one third of the country's adult population is fully vaccinated. Russians have been instructed to stay away from work from October 30 to November 7.
Oceania
New Zealand on Saturday discovered the first COVID-19 case in its South Island for nearly a year, health officials reported.
The Blenheim resident flew over from the North Island and got a sore throat soon after arriving, the New Zealand Ministry of Health said. It is the first South Island case since November 2020.
Earlier in October the government dropped its 'zero-COVID' policy.
However, health authorities urged more people to get vaccinated.
So far, 86% of New Zealand's five million people have received the first vaccination and 70% are fully inoculated.
Only 28 people have died from the pandemic so far in New Zealand.
Africa
Tunisia is requiring residents and visitors to have government-issued COVID-19 vaccine passes to use public and private institutions, its authorities announced.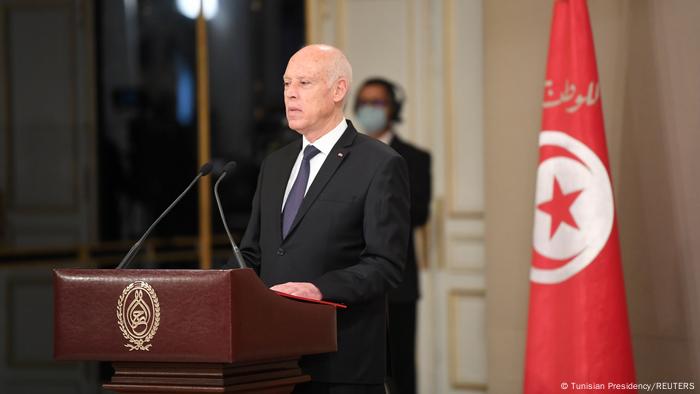 Tunisia's President Kais Saied issued a decree to make vaccination passes mandatory
The presidential decree orders passes to be used at work and to enter cafes, restaurants, hotels and tourist establishments.
Anyone who is not vaccinated will be suspended from work in the public or private sectors until the vaccine pass is presented, authorities said.
Namibia's health ministry has decided to suspend use of Russia's Sputnik V vaccine. The decision comes after neighboring South Africa's Health Products Regulatory Authority (SAHPRA) said there wasn't enough data to showing that the vaccine was safe to use in a country where HIV is prevalent. The regulatory authority decided not to authorise the vaccine for emergency use.
Namibian health officials said they had taken South Africa's decision into account and said the decision was "out of an abundance of caution that men who received Sputnik V may be at higher risk of contracting HIV."
Americas
The FDA late on Friday said using the Pfizer vaccine on 5 to 11-year-old US children "would clearly outweigh the risks," before an independent panel reviews the plans on Tuesday.
If US health experts give the go-ahead to the smaller kid's doses, the group could start to be vaccinated in November, with the first ones fully protected by Christmas.
Peru, the country with the highest coronavirus death rate in the world, has now recorded a grueling milestone.
Over 200,000 people have now died from the global pandemic in the South American country, health authorities have reported.
But with only 25 new deaths, Health Minister Hernando Cevallos said that the two waves in 2020 and a vaccination campaign had probably "created immunity" among Peru's population of 33 million.
kb,jc/jsi (Reuters, AFP, dpa)