Rodrigo Londono has been convicted of bombing police stations, kidnapping politicians and forcing children to join his guerrilla group, the Revolutionary Armed Forces of Colombia, or FARC.
This weekend he walked onto a stage in a modest Bogota neighborhood sporting a blue collared shirt and a V-necked sweater that gave him a professorial look. He approached a plastic podium and launched his bid for Colombia's presidency, promising to "change" the country's politics.
"We know there is no confidence in political parties," Londono told a crowd of some 500 supporters, who gathered at a community center to see him speak. "We are entering elections, to stop politicians who enrich themselves with the people's money," Londono said.
Read more: Colombia's indigenous peoples feel FARC power vacuum
With Londono – more widely known by his war name of Timochenko — as its candidate, the FARC will participate in a presidential race for the first time since the group was founded in the 1960s. The former guerrilla group became a political party last year, after signing a peace deal with the Colombian government, bringing the country closer to the end of civil strife, which has killed 220,000 people and forced millions to flee the countryside. A smaller guerrilla group, the ELN is still fighting in some pockets of Colombia.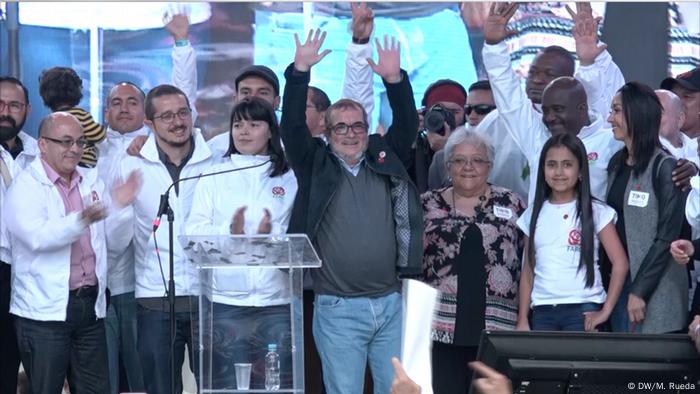 A crowd of about 500 people went to see Rodrigo Londono speak at his inaugural campaign rally in Bogota
Seeking justice
But the FARC's decision to relinquish their guns and hit the campaign trail hasn't been so widely celebrated in Colombia. In fact, the group's participation in politics is a controversial matter.
Many Colombians still cringe at the sight of a guerrilla commander vying for the country's top office. And some would rather see Timochenko and his fellow guerilla leaders behind bars. During its protracted war against the Colombian government the FARC destroyed infrastructure and conducted numerous attacks that killed civilians, while profiting from Colombia's cocaine trade.
"It is embarrassing to see this man running for president," said Gladys Gutierrez, a resident of the Bogota neighborhood of Ciudad Bolivar, who accidentally stumbled upon Timochenko's campaign rally on Saturday. "These people are terrorists and drug traffickers," she screamed, before walking away in disgust.
Read more: Medellin takes victims' side as 'narco tours' bring tourists
Colombian journalist Herbin Hoyos was kidnapped by the FARC in 1994 and taken to a remote mountain camp, where he was tied to a tree for more than two weeks. Hoyos, who was rescued by the military, described Timochenko's presidential campaign as "political miscalculation," and an "arrogant move."
"They should answer for their crimes before running for office," Hoyos said.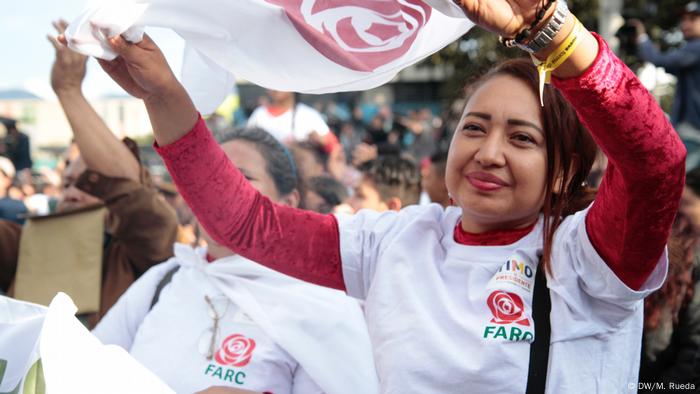 The FARC have changed their logo to a rose that resembles the logos used by socialist parties in Europe
Like many countries that have negotiated an end to civil wars, Colombia has struggled to strike a deal that ceases fighting while granting some justice to war victims.
In Colombia's case the administration of President Juan Manuel Santos and the FARC agreed to create a transitional justice system that will investigate war crimes and hand out special sentences – involving no prison time — to guerrilla fighters and military officers who collaborate with the peace tribunal.
The peace deal struck in 2016 also absolved FARC members of previous convictions handed out by Colombian courts and allowed them to participate in politics once they turned in their guns, paving the way for Timochenko and other FARC leaders with previous convictions to run for office.
FARC associated with violence
Although some Colombians are sour about this particular point of the deal, others are willing to let go of the past and have accepted the fact that the FARC will now vie for political positions.
"I think its time to let go of our grudges and start a new life for this country," said Jose Antonio Sanchez, a construction worker who attended Timochenko's presidential campaign rally on Saturday on the invitation of some relatives. Sanchez said the guerrillas had killed a nephew of his who worked for the police, but he added that he was willing to hear them out and see "what they proposed."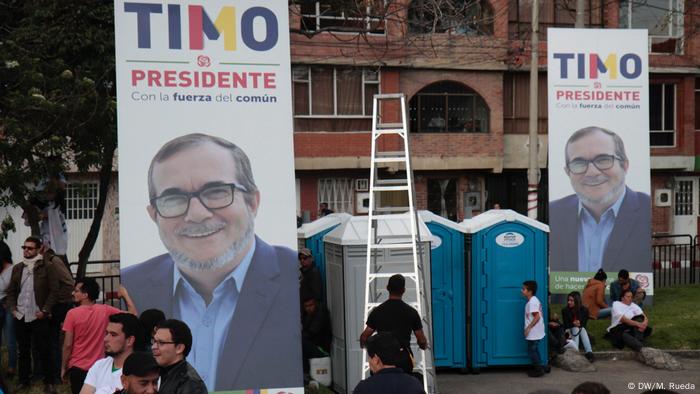 Londono has tried to soften his image, and his campaign posters now show him wearing a blazer and shirt
Ariel Avila, a political analyst in Bogota says it will "take some time" for a larger group of Colombians to accept the former guerrillas as part of the country's democracy. A sign of the FARC's unpopularity is that most political parties are steering clear of them in this year's electoral race. Even those who backed the peace deal.
"No one wants to make a coalition with the FARC, because people associate them with violence, and that just takes away votes," Avila said. "So that's actually one of the reasons the FARC had to run their own [presidential] candidate."
Representation guaranteed
Timochenko, the FARC's presidential candidate, has tried to strike a more moderate tone as he begins his campaign, trading talk about revolution for promises of tackling corruption, improving social services and decreasing the gap between the rich and poor. The group has also changed its logo, which bore two rifles, to a red rose, the symbol of many center left parties in Europe.
But the moderate platform and new marketing tactics haven't given the FARC a great boost. Timochenko remains a fringe candidate, whose support in opinion polls currently hovers around 2 percent.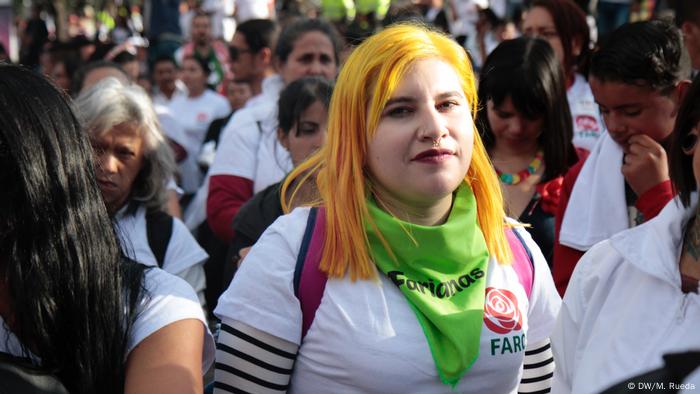 The FARC launched the campaign outside a community center in Ciudad Bolivar, one of Bogota's poorest areas
The peace deal does guarantee the FARC 10 seats in Colombia's Congress during the next term. And the FARC will try to improve on that by fielding more candidates in congressional elections coming up in March. But Avila believes it is unlikely they will get any more seats. Voter registration in areas formerly under FARC control did not increase this year.
Read more: Colombia struggles with the demons of peace
In the long term, Avila says, the FARC's presence in congress can help change their image, and promote reconciliation. The former guerillas have said they have been victims of a media campaign to ruin their reputation. And they think electoral campaigns and their participation in congress can help them change that.
"We want to legislate for the common people," said Sandra Ramirez, a FARC Senate candidate who attended Timochenko's rally on Saturday. "To those who don't trust us I say: Let's talk and let's have dialog."