Jesus was 13 years old the first time he met Pablo Escobar. It was almost Christmas, and his friends had told him that a man named Pablo would come to their neighborhood with gifts for everyone.
"Thousands of people were waiting for him. Then two 18-wheel trucks filled with bags of money and food arrived. Pablo came out of a car and wished everyone Merry Christmas. I got 5,000 pesos. Imagine that: At the time, our monthly rent cost 500 pesos!" Jesus recalls as he drives a group of tourists through Medellin's morning traffic.
Read more: Colombia struggles with the demons of peace
Now in his 50s, Jesus is a tour guide. From Montesacro Cemetery, where Pablo Escobar is buried, to "The Cathedral," the drug lord's private prison, Jesus makes his living telling the story of the world's most famous drug dealer.
"We are simply trying to tell our version of the truth. […] The government blamed Pablo for a lot of things that he didn't do. Now they are trying to erase everything," he says.
As the tour nears the end, Jesus takes his clients to the final destination: the home of Roberto Escobar, Pablo Escobar's brother. The 70-year-old used to be the Medellin Cartel's accountant, and he spent 14 years in prison because of it. Now he recounts tales of the Escobars and their famous drug cartel to groups of tourists that flock to his home every day.
"A lot of lies have been told, and stories change with time. That's why I need to tell my family's story," Escobar says.
Read more: Colombia's coca growers feel left behind despite FARC deal
The house where Pablo Escobar ate his last meal before he was killed in December 1993 perches above Medellin's El Poblado neighborhood. It still bears the scars of bullets fired during a kidnapping attempt on Roberto Escobar a decade ago. Roberto has turned the bungalow into a museum in honor of his family, with giant photos of Pablo in his private jet or riding an elephant in his zoo hung on the walls. At the entrance, tourists are encouraged to take pictures in a bullet-riddled truck or on Pablo's Jet Ski.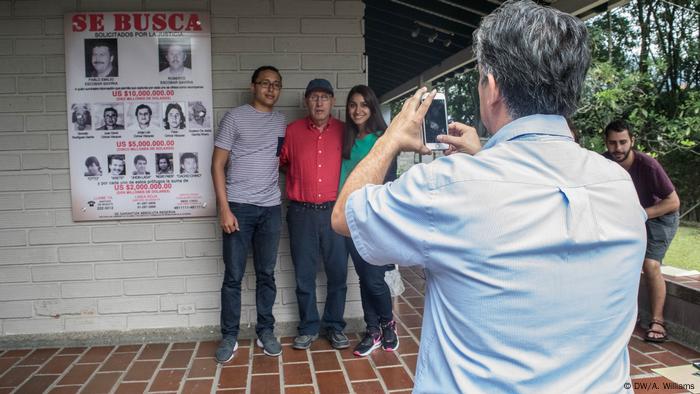 Roberto's brother once terrorized Medellin, now he draws tourists
"Police officers tortured and killed my cousin in front of his family. The government knew our families were being persecuted by the Colombian police who were searching for Pablo, but they didn't do anything about it, and of course those stories were never told to the world. All we did was fight back at our government's cruelty," Roberto tells a group of Mexican and Israeli tourists gathered around the dining table.
At the end of the visit, the old man takes his guests to the house's terrace for coffee, where he offers to sign photos of his brother, on which he stamps his fingerprint.
"I know he was a bad person, but I am so excited to be here. I read everything there is to read on Pablo Escobar," says Lulu Rodriguez, who is here from Mexico.
From police officer to tour guide
Carlos Palau (photo at top) spent years chasing Pablo Escobar. In his younger days, the 52-year-old was part of the search team tasked with capturing the drug trafficker. He, too, now drives tourists around Medellin, telling the story of a war that still haunts him. Of the 150 police officers who trained with him when he joined the police, only three are still alive.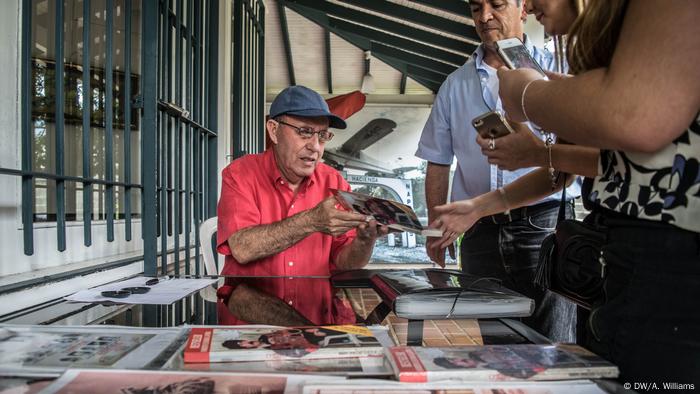 Roberto Escobar tells visitors his version of the truth
"It is ironic, but it is like therapy for me," he says, on his way to Montesacro Cemetery.
"Look at those police officers," he says, pointing through the window of his car. "They are relaxed and talking in the middle of the street. This would have been impossible back in the day.
"Some people still believe Pablo Escobar is a hero, but if you are a cop like me, he is an a*****e," Carlos adds.
Escobar's grave has become a place of pilgrimage for his supporters, and tourists don't hesitate to pose for photos next to his tomb. "Every time I come here, I say a prayer. I say: 'You have tried to kill me many times. But now you are the one who is dead,'" Palau says.
A divisive history
While "narco tours" and Escobar's legacy are drawing tourists, they are also reviving a painful past for the city's residents.
"We created our first 'Pablo Tour' 10 years ago, but the demand exploded after Netflix began airing its 'Narcos' series," explains Camilo Uribe, director of Medellin City Services travel agency.
"It is a very sensitive subject here, as the majority of Medellin's residents have lost members of their family because of Pablo. They don't like our tours because they are not proud of this past. They also complain when they see tourists taking pictures on Pablo's grave," he adds.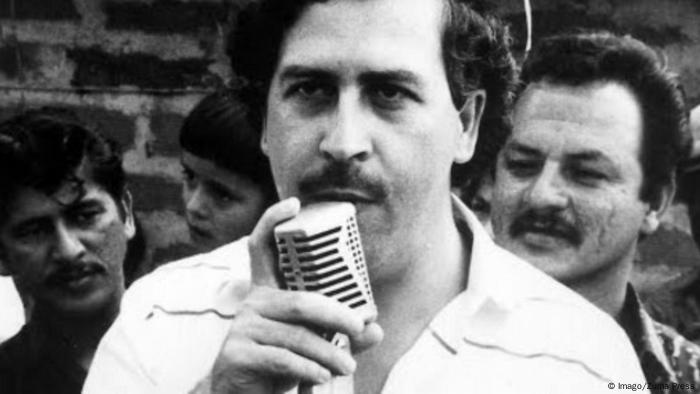 The city of Medellin is not proud of its most famous son
The city of Medellin also disapproves of tour operators taking advantage of the city's dark past.
"Talking about Medellin's history is not a bad thing. The problem is that we haven't been able to build a common history around those events yet. Unfortunately, people are now building a business around this war," explains Medellin government official Andres Felipe Tobon Villada.
Adriana Valderrama Lopez, director of Medellin's Memory House Museum, shares the city's views and believes tourists' interest in Colombia's drug dealers is forcing Colombians to face their history.
"It's been like an explosion here, with all those tourists coming to Medellin," she says. "I don't think the people of Medellin and the city want to erase Pablo Escobar. I don't think those tours are a bad thing either. But we need to build a collective memory that makes sense and that will give meaning to what happened."