Luper Riasco feels homesick as he walks around a basketball stadium that has become his temporary shelter.
Thirty-two families from his village are now living under the stadium's hot concrete stands. There are no walls to separate them. Everyone sleeps on mattresses that are laid next to each other on the floor.
"We all come from the same village, but each of us is used to having their own house, with different rooms," says Riasco, who is living in the stadium with his wife and four kids. "Here you you have no privacy, you don't have any intimacy," he complains.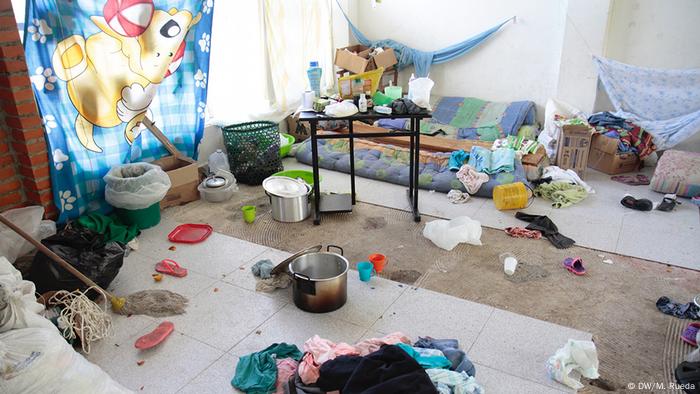 Entire communities have been displaced as a result of the conflict between the government and FARC rebels
Riasco comes from Cabecera, a small village on Colombia's jungle-covered Pacific coast. His entire community fled to the port city of Buenaventura in April, after a group of armed men marched into a nearby village and executed five young farmers.
The massacre happened five months after Colombia signed a peace deal with the FARC guerrillas, ending 50 years of war between the government and the Marxist rebels. And it was meant to make life safer for rural Colombians who have been stuck in the middle of the fighting for decades.
"President [Juan Manuel] Santos got the Nobel (peace) prize for that," Riasco told DW, shaking his head in disbelief. "But maybe the people who gave him that prize forgot about us."
Hundreds of villagers have been fleeing their homes across Colombia's pacific coast this year, as armed groups now fight over territory abandoned by the Marxist rebels.
Violence lingers
The large flow of refugees suggests that Colombia is struggling to contain violence in some of the more remote areas of the country, despite the end of hostilities with the FARC.
Riasco says his village of Cabecera, accessible only by river travel, used to be visited by FARC rebels who held meetings with local farmers and fishermen, and threatened to execute anyone who "ratted" on the group's activities.
But as the FARC withdrew from the area, villagers also started running into National Liberation Army (ELN) guerrillas, a smaller rebel army that on Monday agreed to a ceasefire with the government. They also spotted members of the AGC, a criminal gang that runs a considerable portion of Colombia's cocaine trade.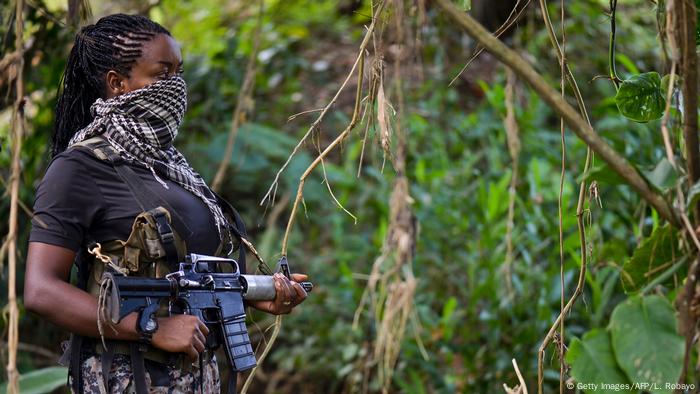 The ELN rebel group has agreed on a temporary ceasefire with the government
"We became scared of running into them when we went out to cut wood." Riasco said. "We heard of colleagues from our river who had run into them, and had been shot, and left to die in the forest."
Ariel Avila, a conflict analyst at Bogota's Peace and Reconciliation Foundation, says that while Colombia is generally becoming a less violent country, the homicide rate in rural areas that used to be under FARC control has not abated since the peace deal was signed. Instead these areas saw a small spike in murders, going from 708 murders in the first six months of 2016, to 780 in the six months following the peace deal.
Read more: Colombia struggles with the demons of peace
Illegal income
According to Avila, Colombia's Pacific coast remains particularly troublesome because it is sparsely populated, has little state presence and is ridden with drug trafficking routes, illegal mines and even animal trafficking rackets. That mean's there's a lot of treasure for armed groups to fight over.
"The FARC controlled many illegal industries in this region, and their departure left a power vacuum" Avila told DW. "Now the pacific coast is a disputed area."
UNHCR, the UN's Refugee Agency, says that 6,600 people fled from their homes along Colombia's Pacific coast in the first eight months of this year.
Some refugees have said they fled their homes because armed groups are so concerned over territorial control that they severely restrict where villagers can go.
"We weren't allowed to collect our crops for weeks and we couldn't even fish," says Nilson Chamarra, an indigenous leader from Choco province. His tribe's reservation sits along a river that is disputed by the ELN and the AGC.
Chamarra's tribe decided they could no longer stay in their homes after a fire fight broke out between the ELN and the Colombian military near their village. The group of 200 people now sleeps at a youth center on mattresses donated by the municipal government. They cook with fire made with scrap wood that includes old pieces of furniture.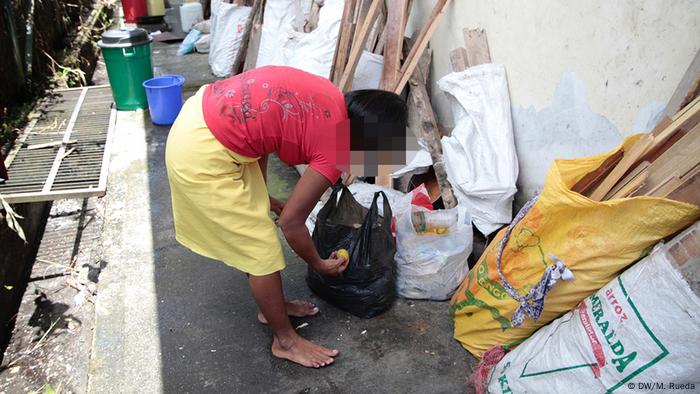 Displaced women from the village of Chagpien cook with scrap wood they collect in the city - gas is rarely supplied
"This place is far from ideal," Chamarra says. "But we need more security to go back home."
Read more: Colombia's coca growers feel left behind despite FARC deal
Integration through jobs, education
Eduardo Alvarez, the director of Colombia's Ideas for Peace think tank, argues the region also needs to be integrated with the rest of Colombia through greater infrastructure, job programs, education and social services, so that its residents don't turn to illegal industries for their survival, and those who do can be more easily controlled.
"It's not rocket science" he says. "This area of Colombia has long been cut off from the rest of the country."
Luper Riasco and his fellow villagers say that they will not return home until they get some development aid, along with more security.
The villagers are asking for a power plant to ensure electricity at night and for help with food and seeds because all of their crops have been lost while they've been gone. The village also wants authorities to pledge greater support for education and health programs as part of a return plan.
"Sometimes I just want to drop it all and go back home … because I miss the countryside," Riasco says. "But we will not move until we get our return plan approved. Otherwise our time here would have been in vain."