Just weeks after handing over the last of its weapons as part of a landmark peace deal, the Colombian guerrilla group announced on Thursday that it would now be known as the Alternative Communal Revolutionary Forces.
In Spanish, the new name is Fuerza Alternativa Revolucionaria del Comun, which means the group can keep the acronym FARC.
Members of the former rebel army have created a new, leftist political party under the terms of a 2016 peace agreement with the Colombian government.
Read more: Colombian government slams 'ridiculous' FARC list of assets
Political headstart
The transition will allow the new FARC, who fought a 50-year civil war against the state military, to take 10 seats in the country's Congress - five in each of the upper and lower houses.
The deal will run for the next two legislative terms, but from 2026 the new party will be required to contest elections without the 10 seat advantage.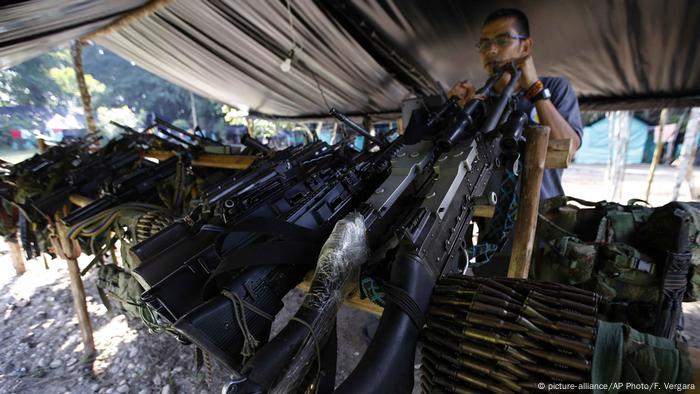 FARC handed over their last remaining weapons to the United Nations in August
FARC had originally floated several other names, but the new title was decided on Thursday at the party conference in the capital, Bogota.
The group, which has vowed to tackle corruption and push the rights of women and minorities, will hold a formal launch ceremony on Friday on Bolivar Square, near the Presidential Palace in the heart of the city's political district.
Approval not assured
Analysts say it remains to be seen if Colombians will come to accept the party, given its violent reputation as a rebel group. Many Colombians view the FARC in very black or white terms, due to their name being synonymous with death and suffering for several generations.
The FARC formed as a communist movement in 1964 from a peasant uprising for rural land rights. But their military tactics and regular terror attacks eventually evolved into Latin America's longest conflict, leaving some 260,000 people confirmed dead and a further 60,000 missing.
Last year's peace deal was initially rejected by the public in a referendum before tweaks to the political transition were pushed through Congress.
Despite the peace, some splinter groups, along with the 1,500- strong National Liberation Army are still carrying out attacks in parts of the country.
mm/sms (AFP, AP, dpa, Reuters)