Colin Bell is a man who loves a good story. Not long after I sit down with him, he dives into one of his favorites.
"When I was about ten years old, Manchester City played away against Leicester City. I told my Mum we were going and, with Dad working, we had to get the Red Midland bus. We were the first people in the ground. The players came out to inspect the pitch and I saw Colin Bell, but the policeman told me I had to wait until afterwards to get his autograph. So after the game, I waited around the front of the stadium. There were loads of kids there, as well as policemen. After a while, Mum said to me 'Let's go, it's not going to happen.' But I had to get his autograph, so we waited. What happened next is the honest truth. One of the policemen moved to one side, and I sprinted into the gap and ran onto the bus. Luckily, Colin was sitting near the front and I got his autograph. The bus started to move and all these kids were pointing and saying, 'There's a kid on the bus!' My mum just said, 'Yes, he's mine.'"
The story harks back to an era of football that has long disappeared, but it is made more special by who the little boy is. The Manchester City legend Colin Bell was not the only Colin Bell at Filbert Street that day. The young boy who desperately ran onto the bus in search of his hero's autograph not only shared the same name as the former England attacker, but eventually the professional world of football too.
From the discovery of his hero in the pages of a football magazine that he flicked through at a barber shop, to captaining and then coaching the Leicester Beavers after their schoolteacher-coach suffered a car accident, Bell has lived enough adventures to knock every media-trained professional in modern football off balance.
As a player, Bell turned down signed contracts from New Zealand, Australia and Finland to head to Germany, via a long car journey in a Cadillac with a German agent called Willy who spoke no English. On the drive, Willy kept looking at the map and saying "Pass Auf" – Bell's lack of German left him mistaking German words of warning for insulting words of English.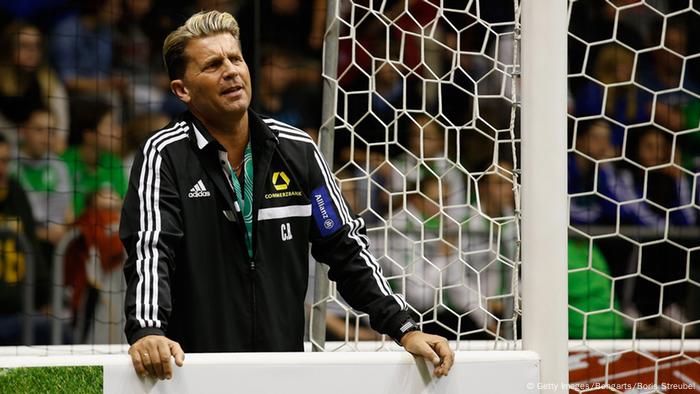 "Mr. Bell! Do you remember the back four?"
An English pioneer in Germany
Amidst a career that started at the wrong club (called Hamm) and peaked with Mainz, Bell became the first ever Englishman to get his coaching badges in Germany. He even took his A-license test a year early thanks to special permission from the Rhineland football association and because the recently appointed Hamburg assistant coach Peter Hermann dropped out to become assistant coach at Leverkusen.
At Cologne, Bell was assistant to the "totally underestimated coach" Lorenz-Günther Kostner. Guido Buchwald's professional foul, Oliver Held's infamous handball that was never given, and the haunting return of Uwe Fuchs left Cologne's squad of individuals relegated. That didn't stop Bell from starting a revolution by implementing 4-4-2 in every youth team, including the U14s with Lukas Podolski. When Bell recently made an outing for Cologne's Traditionself team at the club's training ground, he bumped into the Germany attacker who instantly said, "Mr. Bell! Do you remember the back four?"
After a seven year stint at TuS Koblenz, the same tactical revolution saved Dresden from relegation, but after internal and upstairs drama, Bell was on the move again. A move to second-division Waldhof Mannheim saw him work and learn a great deal from Uwe Rapolder, before Bell eventually came home to coach Mainz's U23s.
"I love Mainz. They are my club in Germany," said Bell. He won the South West cup four times in a row, qualified for the DFB Pokal four times - a record for an amateur team from a professional club - and all of this in the shadow of first-team coach Jürgen Klopp. A change of command from upstairs left Bell's hands tied, but he was a man of principle and soon returned.
Finding his faith
It was at this time that Bell's life changed. Selecting his own eleven, his Mainz side played against a Bayern team that included Bastian Schweinsteiger in midfield. Against all odds, they drew 0-0 and Bayern coach Hermann Gerland said afterwards Bell's side were the best they had faced all season. It wasn't this result that changed his life though, nor did the two wins against Siegen and Offenbach (the two sides that were promoted that season) that followed. It was Bell's discovery of faith.
The day before pre-season training camp in Turkey, Bell was sacked as manager of the U23s. Despite his heart being broken at having to leave the club he loved and his belief being tested, Bell's new found forgiveness allowed him to move forward in his life like never before.
While adapting and learning how to live his new life, Bell had a spell at Preußen Münster that ended unceremoniously when he was sacked in a hospital bed while suffering from sudden deafness. During recovery, Bell stumbled across Matthew 9:12: "Those who are well have no need of a physician, but those who are sick."
Dipping into German, as he often does, Bell explains this was another moment where he realized football was his method of healing, and that he must persevere. His stint with Münster left people unconvinced and after three months without a job, Bell headed to the job center. Afraid, he was guided by his unwavering faith but remained unrewarded.
A football camp with the CVJM (Christian Community for Young People) down in Munich, and an interview at Frankfurt main station after the 2006 World Cup game between England vs. Paraguay reaffirmed Bell's beliefs. And this time, he was rewarded. On the journey home, Bell's phone rang twice with job offers.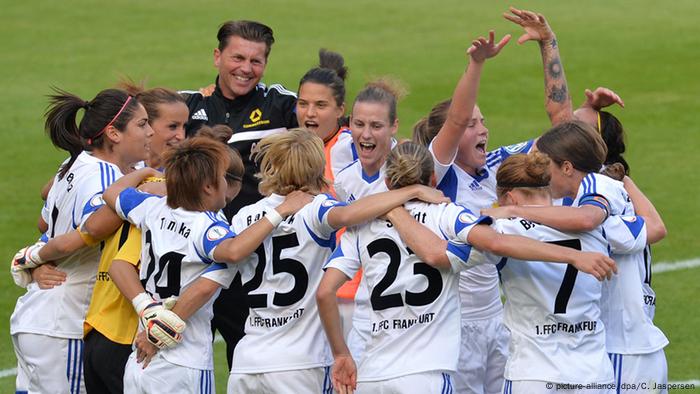 Bell's FFC Frankfurt team won last year's German Cup, beating SGS Essen in the final
Two minutes into a meeting with former employers TuS Koblenz, he signed a three-year deal to coach the entire youth department. Typically though, things didn't go smoothly. The news was leaked, the fans revolted, the club panicked and it took first-team coach Milan Sasic to confirm the deal.
When he left in 2011, thousands waved him goodbye. Bell explains that it helped him, to show people how he had grown. That same personal growth allowed him to move into the women's game too he says.
This season, his FFC Frankfurt side are two points off the top of the league table, they are in the Champions League final four after a 12-0 aggregate mauling of Bristol Academy, but went out of the German Cup in the semis.
How fitting would it be for Bell - a fan, player and coach of a sport long evolved - to succeed in a part of the game that was beyond comprehension when he leapt onto that bus as a ten-year-old.