Silvia Neid will quit her job as Germany's women's national team coach next year and is set to be replaced by former German international Steffi Jones. This was confirmed at a German Football Association (DFB) press conference in Frankfurt on Monday.
Neid, who has coached the team since 2005, will coach Germany through the coming Women's World Cup in Canada and will hand over the reins to Jones in the Summer of 2016.
"I took a long time to make this decision - I've been connected to the national team for 34 years," she said. "I don't want to retire, I want to try something new."
After her time as national coach ends, Neid is set to head a new scouting division for the DFB for women's and girl's football.
A magnificent career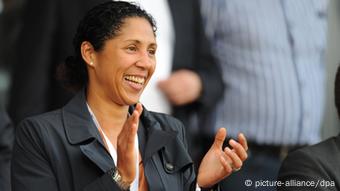 The newcomer: Steffi Jones will take on Neid's role from Summer 2016
Over the last ten years, Neid has been one of the most successful coaches in women's football. In 2010, she was the first winner of the Ballon d'Or prize for Best Coach in Woman's football.
Just two years after taking control of the German team, she led them to victory at the 2007 Women's World Cup, defeating Brazil 2–0 in the final of the tournament. She also twice guided the team to a European Championship title in 2009 and 2013.
Jones, who played actively under Neid for many years, says she is looking forward to her new role.
"I know that the job of German women's national team coach is a big responsibility, she said. "Still, I want to take on the challenge."
al/apc (dpa, SID)