Scientists hiking the length of the Alps this summer say the region has been marked by significant environmental and social changes since they first walked the same path, from Vienna to Nice, 25 years ago. Much of what they found was alarming.
At lower elevations, forests are drying out and tree-killing beetles are spreading. Orchards have been damaged by extreme spring weather, as severe cold snaps follow early warmups. Among the summits, some glaciers have retreated out of view and the permafrost that holds the rocky crags together is thawing.
Extreme rain storms have become more frequent, triggering ever-larger landslides that are reshaping mountainsides—so much that the path of the hike had to be altered in some places. Some historic trails have crumbled away and the melting alpine glaciers this summer have disgorged several bodies of climbers who vanished decades ago.
"These are all signs of climate change," says Swiss Geographer Harry Spiess, one of the four mountain scientists and one of the Whatsalp hike organizers.
"Everybody is aware of this, but nobody changes attitude in terms of mitigation," he says. "Times have changed. In policy and politics, the focus has shifted to global issues like terrorism and migration."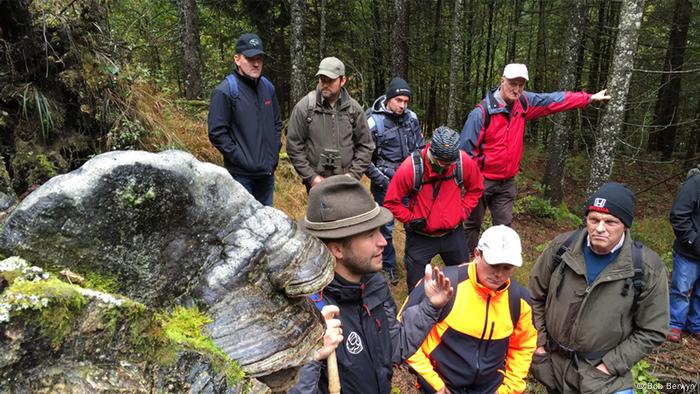 In Austria's Dürrenstein Wilderness, near the route of the Whatsalp trek, forester and wildlife biologist Stefan Schörghuber (center, with stick) explains the ecological benefits of wilderness to a group of private forest owners and farmers from the region
Hikers and refugees
Since controls on migration were tightened in the Balkan region last year, the Alps have become a primary pathway for refugees from Africa and the Middle East on their way to northern Europe. Encountering refugees on an alpine hiking trail would have been unheard of 25 years ago; today it's more than likely on some of the trails in the French-Italian frontier region.
Nobody anticipated that scale of migration 25 years ago, and it is now a bigger concern for many people than environmental preservation or climate change, said Spiess, speaking with DW from Briançon, one of only a few alpine towns that have made an effort to directly face the global demographic tremors of migration.
Mass tourism
In the global age, the ramparts of the Alps no longer isolate the region. During the last hike 25 years ago, nobody foresaw the economic boom in Asia, which has completely transformed tourism in the Alps. Mass tourism has been on the rise, leading to more highways, large hotels and parking lots—all indications that the region has yet to embrace a more sustainable strategy for the future.
"It's not strong enough to destroy the Alps yet, but there's a long way to go to fully realize the region's sustainable development goals," says Spiess.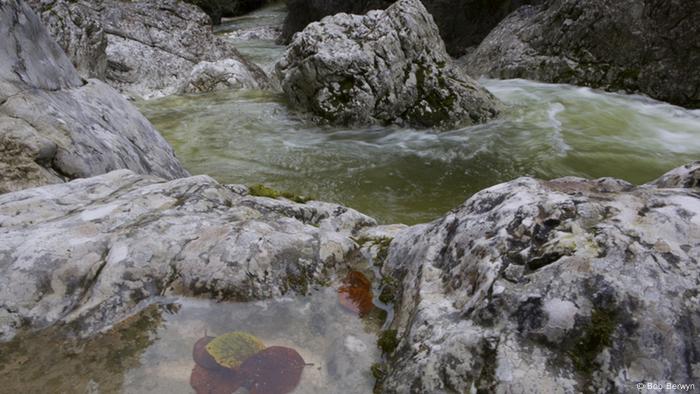 Protecting rivers in the Alps can be part of a regional adaptation strategy to make ecosystems and communities more resilient to climate change
Tourism development in certain alpine valleys has sprawled beyond the land's carrying capacity. In some regions, expected climate change impacts will threaten the very existence of communities.
Climate models project the southern mountains will see more drought and heatwaves, but also more extreme rain and snowfalls. The northern foothills will rarely see snow in the future, and will be vulnerable to flooding from more powerful Atlantic storms.
Signs of hope?
Dominik Siegrist, a Swiss landscape planner and geographer who was also part of the 1992 hike, says this summer's three-month trek shows how the diversity of the alpine region, and a flowering of grassroots community advocacy groups, are keys to the future. Local activism and civic engagement have grown dramatically since the original hike.
"A big scene, a big community of alpine people is working on these challenges," says Siegrist, speaking to DW from the Rifugio W. Jervis, a mountain shelter on the border of Italy and France.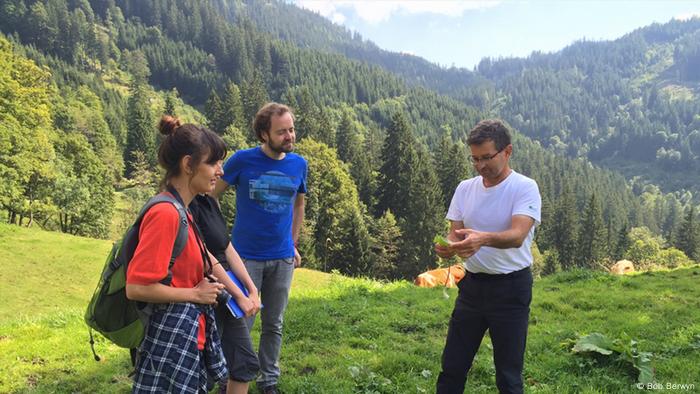 Biologist Dr Andreas Boehner describes how global warming can change soil moisture in alpine pastures, thus shifting the composition of plants
The efforts include scientific research, projects to promote sustainable agriculture and tourism and many new local, regional and international initiatives to expand and add conservation areas like parks. Also, activist groups are working across national borders to fight intrusive projects like a proposed highway link between Munich and Venice, as well as the expansion of ski areas into new, ever-higher terrains.
Siegrist hopes the Whatsalp hike will help inspire more people to join those efforts, through a focused youth outreach effort as well as a presence on social media, a near-daily blog and widespread media coverage in German language media.
Grassroots preservation
The hike itself is a grassroots project. It's partly crowdfunded and there's an open invitation to join the group at any point along the way, including on the last few legs through Italy and France, as well as during the September 29 festivities at the finish in Nice, France. Along the way, the team met with local groups on more than 110 occasions.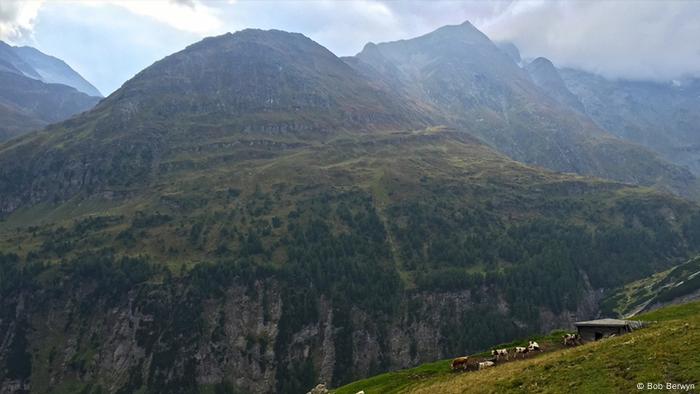 Whatsalp hikers passed by high alpine pastures that sustainably produce local food
One such group was a network of mountain-climbing villages in Austria called "Bergsteigerdörfer," which promotes sustainable, low-impact and non-motorized recreation and tourism.
There has also been an increase of agriculture-related tourism and organic farming and cattle-grazing on mountain pastures, which helps preserve cultural and environmental landscapes and benefits local economies, says Siegrist.
Until Europe and the whole world move in a more sustainable direction, he expects the region will continue to face the same environmental and economic pressures that have persisted over the past 25 years—pressures that will only be aggravated by climate change.