It doesn't sound such a bad idea. Those with theCitizen app will be alerted by a push notification whenever a crime is committed in their neighborhood - or if they get too close to the scene.
A video from the company behind it shows a woman with a small child walking towards a park where, according to the scenario, a man has been sighted near a play area carrying a gun. The woman receives the push notification, and turns around to head for safety.
As the firm, citizen.com, states on its blog. "The Citizen app notifies you when a crime or other major incident is reported to 911 near you."
Employees at Citizen headquarters scan the police radio, all the time listening out for details of crimes, and other occurrences, to be passed on to emergency response teams.
They record the nature of the incident and mark it on the app's electronic map. It appears on users' phones immediately, meaning that users have the information almost as quickly as the police.
Citizen.com assert that their intention is merely to warn about potential dangers at an early stage, and possibly encourage people to help where possible - for example, as first responders in the event of a medical emergency.
Apps with a wide appeal
Critics, however, say the app might appeal to wholly different target audiences. An earlier edition of the app, released in October, was called "Vigilante," with all of the obvious connotations that brings - of Wild West posses and crime-fighting militias. After a public controversy was stirred up, Apple removed the app from its online store.
Could the app be attractive for individuals who crave to play the hero and conduct their own crusade against the bad guys? Could it also hold appeal for ambulance chasers and rubberneckers - the sort of people who'll happily turn out to watch a police operation or fire service rescue as it unfolds in real life?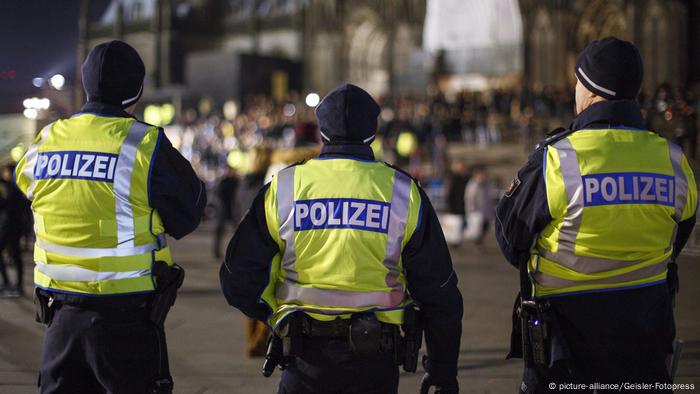 Indeed, citizen.com encourages its users to take videos and pictures of crime scenes - a phenomenon viewed with great anxiety by police in both the US and Germany. The German state of Saxony last December forwarded a federal bill to Berlin that would forbid the taking of photographs of crime and accident victims, and make it illegal for individuals to hamper rescue efforts by their presence.
The operators of the Citizen app, meanwhile, are eager to send as many warning notifications as they possibly can. That's their business model.
"In New York City alone, there are nearly 10,000 calls to 911 each and every day," says the firm's advertising. "Many of these are for life-threatening emergencies or crimes occurring with thousands of people around."
A more cautious approach
There are comparable apps in Germany. However, the difference is that it is the authorities who decide which notifications will be pushed, and that the aim of doing so will be. And they remain quite cautious.
Examples are the emergency and news app NINA and the disaster warning system KATWARN. They only issue warnings in extreme and exceptional circumstances, such as violent crime and terrorism, or industrial and natural disasters.
What the apps don't do is to pass on the unfiltered content of police radio messages to their users. Control centers are able to select very precisely what the public is allowed to know - such as advice to stay at home and keep windows and doors closed.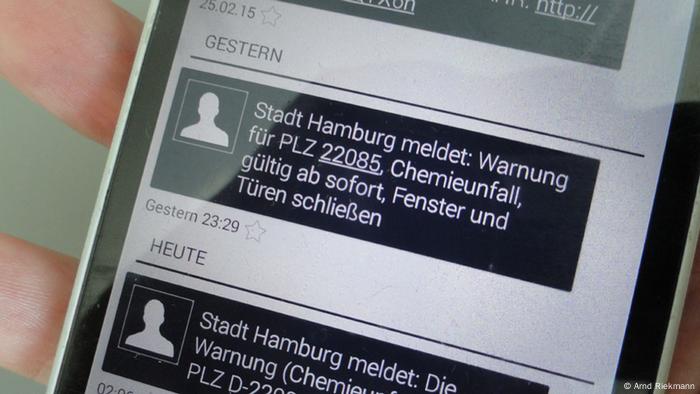 The German app KATWARN, which here alerts users to a chemical incident in Hamburg, telling residents to close windows and doors
A privately operated app like citizen.com wouldn't be possible in Germany. Since radio signals were digitalized, they have also been encoded.
App that urges involvement
There is, however, one app in Germany that encourages users to get involved and help in emergency situations. However, it's all about medical emergencies, rather than hunting criminals.
The doctor Ralf Stroop, from the rural Westphalian town of Halle, hit upon the idea in 2015. Emergency vehicles would often take a long time to reach patients in more isolated areas. Meanwhile, there are trained first aiders in even the tiniest communities - in small companies, sports clubs and volunteer fire services. Many would be able to reach the scene of a medical emergency far more quickly than the ambulance - provided that they knew about it.
Stroop came up with the app for trained first aiders to load to their smart phones. If they are near to a sick or injured patient - the app lets them know about it. Since October 2016, the app has been running in a pilot project in the Westphalian district of Gütersloh.
There were some 211 alerts by the end of the year alone. In 132 cases, volunteer first aiders turned up to assist. Some 60 percent of them were at the scene in less than five minutes. The plan is now to extend the project, which goes by the name "Mobile Retter" (Mobile Saviour), to other towns and municipalities.