The arrest took place Thursday evening in the city of Herne, where a 9-year-old boy was murdered three days earlier. Police in the city and elsewhere in the country have spent several days conducting a major manhunt for the suspected killer, Marcel H.
A police spokesperson said that officers made the arrest after H. called them from a fast food stall in Herne. "I am the wanted person, please call the police," he said. The suspect surrendered himself when officers arrived at the scene.
Marcel H. also alerted authorities to an apartment fire some 300 meters (985 feet) from the food stall, where police found one more body. A statement released by Dortmund police said earlier reports that two bodies had been found in the apartment were incorrect.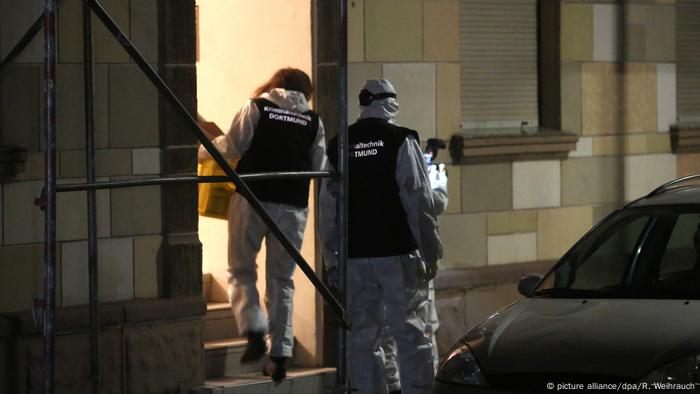 Police found a body in the smouldering Herne apartment where Marcel H. had been holed up
Police did not disclose any further information other than that the victim in the apartment was male. They did not confirm whether Marcel H. had also perpetrated that killing.
The police reportedly received more than 1,400 tipoffs with regards to Marcel H.'s alleged whereabouts since the crime was committed.
The lawyer for the victim's family issued a statement saying that "the family is infinitely relieved and happy that the presumed killer was caught alive and punishment can be carried out."
On the run
19-year-old Marcel H. is under serious suspicion of having killed his neighbor's son on March 6 and having then posted gory images of his crime on the so-called "darknet," the internet's hidden underbelly often used for illegal activities.
An online user claiming to be the prime suspect has since been posting a series of updates about his alleged escape on the internet, also claiming that he has committed another murder. The user purporting to be Marcel H. had reportedly also published suicide threats since the murder of the 9-year-old boy.
Editor's note: Deutsche Welle follows the German press code, which stresses the importance of protecting the privacy of suspected criminals or victims and obliges us to refrain from revealing full names in such cases.
ss,dm/msh,se (dpa, AFP, AP)