Christo is world-famous for his large-scale installations that transform their surrounding, like "The Gates" in New York's Central Park or, most recently, "The Floating Piers" on Lake Iseo in Italy.
With "Over the River," the 81-year-old Bulgarian-born artist would have nearly outdone himself. In planning since 1992 with his late wife and artistic collaborator Jeanne-Claude, the installation would have seen silvery fabric panels suspended temporarily above six miles of the Arkansas River, located in eight areas over a 42-mile stretch.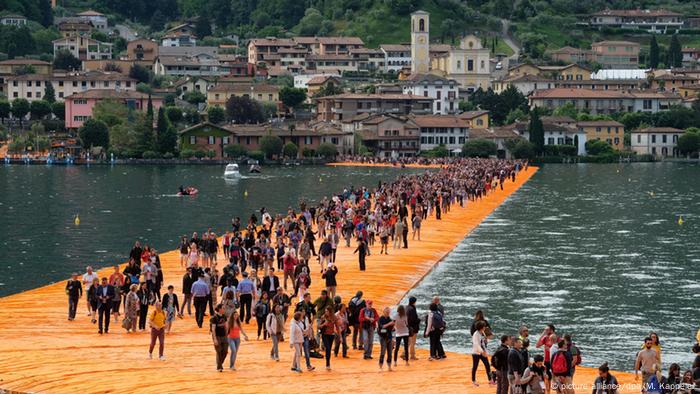 Christo's "The Floating Piers" in Italy was hugely popular
Christo has been embroiled in court battled for the past five years, as the project faced some opposition by local environmental protectionists, who feared it might endanger wildlife in the Bighorn Sheep Canyon, reported "The New York Times." Though the artist had won those court battles, he announced this week that he would be abandoning his "Over the River" installation.
"After pursuing 'Over the River Project for the Arkansas River, State of Colorado,' for 20 years and going through five years of legal arguments, I no longer wish to wait on the outcome," Christo wrote Wednesday in an online statement.
A dispute with the 'landlord'
Christo told "The New York Times" that the federally owned land now had a new manager - namely, US President Donald Trump.
"I came from a communist country," he told the paper. "I use my own money and my own work and my own plans because I like to be totally free. And here now, the federal government is our landlord. They own the land. I can't do a project that benefits this landlord," the Bulgarian-born artist said. Christo, who finances all of his art projects himself, had already invested some $15 million (14 million euros) in "Over the River."
He said he would continue working "The Mastaba" instead - his only permanent installation, which is situated in the United Arab Emirates.
kbm/ss (AFP, dpa)