If a report in the Sunday edition of Welt newspaper is accurate, the story of Anis Amri – the Tunisian terrorist who killed 12 people on December 19, 2016, when he drove a truck into a crowded Christmas market on Berlin's Breitscheidplatz – will have to be rewritten.
After analyzing thousands of files from the Federal Criminal Investigations Office (BKA), dozens of reports by informers and records of internet and mobile phone surveillance, the paper concluded that police and intelligence agencies knew that Amri had posed a terrorist threat since at least November 2015 – far earlier than previously thought.
The information contradicts the common assumption that authorities only became aware of the threat Amri represented over the course of 2016. Officials in the state of North Rhine-Westphalia began listening in on Amri's mobile phone in late 2015 but did not consider him dangerous.
Both federal investigators as well as authorities in North-Rhine Westphalia and Berlin have come under criticism for alleged mistakes made in the run-up to the December 19 attack.
It was previously common knowledge that Amri came to Germany from Italy in July 2015, entering the country in the southwestern city of Freiburg and spending most of his time in North Rhine-Westphalia and Berlin. He was arrested during 2016 and was supposed to be deported but was released due to fears that Tunisia would not accept him back because he lacked identity papers. Amri was shot dead in Italy by police on December 23, 2016, after a Europe-wide manhunt.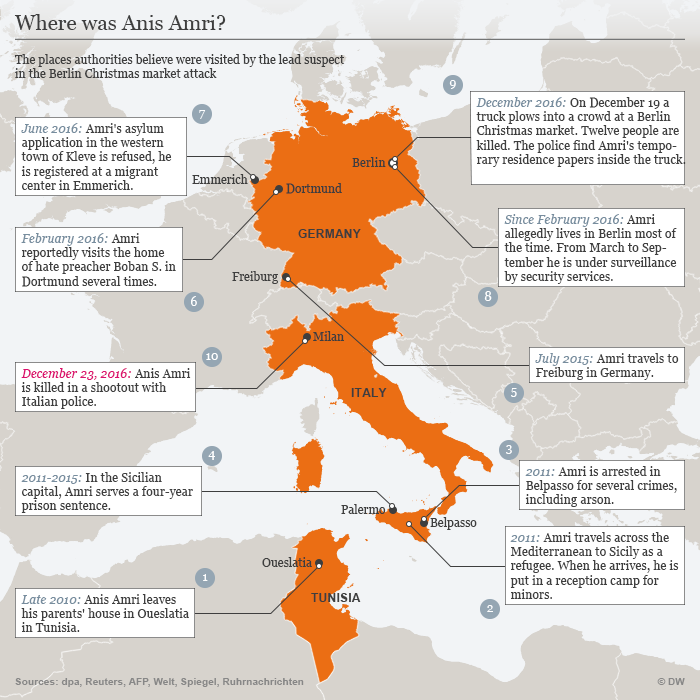 The newspaper information fills in details about what Amri was doing from late 2015 to early 2016
A host of early warnings
The conventional wisdom has been that by the time authorities realized the danger Amri posed, he had gone underground. The Welt report adds the following information to what we know.
- November 24, 2015: A police informer tells authorities that Amri is making concrete plans for a terror attack. It remains unclear whether the informer encourages Amri to make such statements.
- As of December 3, 2015, Amri's mobile phone and internet connections are put under surveillance.
- December 14, 2015: Amri downloads onto his phone detailed instructions for making explosives, bombs and hand grenades.
- As of February 2, 2016, Amri contacts midlevel Islamic State (IS) terrorists in Libya via mobile phone and chat messenger services, offering to carry out a suicide attack.
In January 2016, Germany's domestic security agency, the Office for the Protection of the Constitution (BfV), wrote a two-page analysis of Amri that was personally signed by the head of the organization, Hans-Georg Maassen.
The following month, the Criminal Investigation Office turned over 12,000 pieces of data, including his communications with terrorists from the "Islamic State" group, to the domestic security agency, which then assigned one of its agents to monitor Amri.
And in March 2016, the organization eavesdropped on a telephone call in which Amri speaks of a cousin of his being killed fighting for IS – evidence of family connections between the Tunisian and the terrorist organization that existed even before he came to Europe in 2011. The Christmas market attack in Berlin was still nine months away.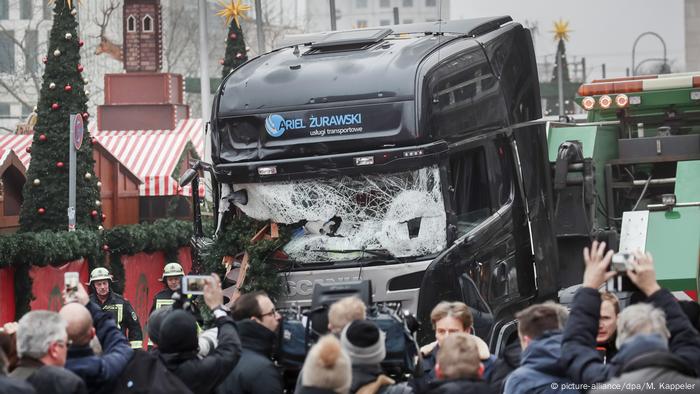 Amri first killed the driver of the truck, then used the vehicle to kill 11 others at the market
Was Amri being used to uncover other terrorists?
Welt writes that "it is not evident" from the data why police investigators and intelligence services didn't move against Amri earlier, given what they knew. But the paper speculated that Amri may have been allowed to remain at large in the hope that he would lead authorities to other more important terrorists.
"Several months of research makes an involvement of international intelligence services seem plausible," Welt writes. "They most likely saw Amri as a lure that could lead them to the people behind him, the IS attack planners in Libya."
As evidence in favor of its conjecture of international intelligence service involvement, the paper cites the fact that on January 19, 2017, the US Air Force bombed the IS camp in the Libyan desert where Amri's contacts were suspected to be.
In an interview with Welt, Hans-Christian Ströbele, a Green member of the Bundestag's intelligence supervision committee, speculated to the paper that the "ordering hand" of US intelligence services or the US military was behind the "otherwise inexplicable" failure to take Amri into custody in early 2016.
Speaking with Bild newspaper, Germany's conservative Interior Minister Thomas de Maiziere called the failure to classify Amri as clearly dangerous a "bitter mistake," adding that "authorities sometimes now intervene earlier to ward off threats."
DPA news agency, citing unnamed sources in security circles, said that there were an estimated 720 classified "Gefährder" (a term used by security agencies to denote persons believed to be dangerous "threats") — people considered willing to carry out major terrorist attacks — in Germany at present. That number, the agency added, was higher than ever before, possibly because of extremists returning to Germany after Islamist defeats in war-torn countries like Syria, Libya and Iraq.
Germany will mark the anniversary of the Christmas market attack on Tuesday. On Monday, German Chancellor Angela Merkel meets with survivors and family members of victims of the attack.