Chinese electronics retailer Suning Commerce announced Monday in Nanjing that it had bought a nearly 70 percent stake in Italian football club Inter Milan, in a deal worth $307 million (270 million euros).
Suning, owned part by Chinese e-commerce giant Alibaba, said the move was part of its strategy to develop its sports business and "grow internationally."
International Sports Capital, the previous owner, will hold on to about 30 percent of shares of the storied club, which has been crowned European champion three times in its history.
But Inter Milan have struggled lately, both on the field and with its finances. Last year, it was reported that the club's debt totaled 230 million euros.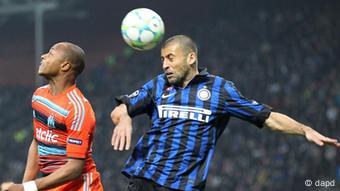 Football fans worldwide can identify Inter Milan by its blue and black striped jerseys
Inter Milan's chief executive, Michael Bolingbroke, told the news agency Reuters that Suning would assume a large portion of that amount.
Indonesian businessman Erick Thorir, who will remain in his role as the club's president, said he hoped the purchase would allow Inter Milan to keep up with the competition in an era of "superclubs." He said that "Inter cannot become a small club or a medium club. We have to go back to being at the top."
Game changer
Business is booming for the sport in China, in line with Chinese President and football fanatic Xi Jinping's ambition to develop the country into one of the game's powerhouses.
Suning's purchase marks the latest in a growing list of forays made by Chinese investors into the European football market. The richest man in China, Wang Jianli, set the stage in January 2015 when he acquired a 20 percent sake of Atletico Madrid.
Since then, Chinese investors bought a stake in England's Manchester City football club, among others. Some are in talks to buy a majority stake of Inter Milan's rival AC Milan.
Suning also owns a football club in China, which has snagged internationally renowned players with staggering contracts.
jtm/uhe (AP, Reuters)