Chinese President Xi Jinping received a red carpet welcome at the start of his state visit to Vietnam Sunday despite growing tensions between the two communist countries.
Xi received a 21-cannon salute upon his arrival in Hanoi — his first foreign trip since being re-elected Communist Party chief last month.
The Chinese leader met with Nguyen Phu Trong, the general secretary of Vietnam's Communist Party, before reviewing an honor guard and then heading for talks behind closed doors.
The two sides are expected to try to expand their economic relations, but this comes at a time of heightened bilateral tensions over territorial disputes in the South China Sea.
On the heels of Trump
The Chinese leader was following closely on the heels of US President Donald Trump, who arrived in the Vietnamese capital Saturday. Both Trump and Xi were coming from the latest APEC (Asia-Pacific Economic Cooperation) summit that concluded Saturday in the coastal city of Danang, 470 miles (750 kilometers) south of Hanoi.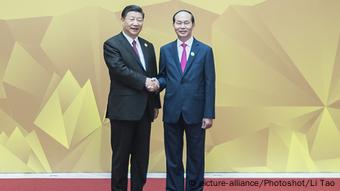 China's President Xi with Vietnam President Tran Dai Quang
Trump's surprise proposal to insert himself into the decades-long row risked backlash from China.
"If I can help mediate or arbitrate, please let me know ... I am a very good mediator," Trump told Vietnamese President Tran Dai Quang earlier on Sunday.
The territorial tensions in the South China Sea center on Beijing claiming virtually all of the sea to be its territorial waters, claims that have been vigorously disputed by Vietnam, the Philippines, Malaysia, Taiwan and Brunei.
The Philippines had been the most vigorous critic of Chinese territorial claims, but Philippine President Rodrigo Duterte has recently dialed back his country's objections, leaving Vietnam as the leading critic.
Court rules against China
In addition to claiming the vast majority of the 1.4 million square miles (3.6 million square kilometers) of sea — China has built up small islands in the sea and outfitted them with missile systems, much to the chagrin of its Asian neighbors and the United States.
An international tribunal has also ruled against China's maritime claims, but Beijing has refused to recognize the court's ruling.
The sea is rich in natural resources and is a critical transit area for global shipping.
Contempt for China runs deep in Vietnam, a country that was colonized by China for nearly 1,000 years. But economic prospects compel both sides to resolve their differences.
Vietnamese President Tran Dai Quang said Sunday that his country wants to end disputes in the South China Sea through peaceful means.
"It's our policy to settle disputes in the East Sea through peaceful negotiations and with respect for diplomatic and legal process in accordance with international law, including the UN Convention on the Law of the Sea," he said.
China and Vietnam need to "stay committed to seeking a fundamental and durable solution to their maritime issues acceptable to both sides through friendly consultation," Xi said in an article published by the state-run Xinhua News Agency Thursday — before Xi's arrival in Vietnam.
bik/jlw (AP, dpa)