The project would connect the 300-plus kilometers between Eilat on the Red Sea and Ashdod Port on the Mediterranean. And it could be the chance for China to gain a foothold in the region.
Prime Minister Benjamin Netanyahu, who regularly calls his country the "innovation nation," hopes the cabinet's recent decision to fast-track the so-called Red-Med project will further cement that reputation. The link, estimated to cost upwards of $2 billion, is expected take five years to complete, with construction due to start in the next 12 months.
Netanyahu recently said he was excited about the project. "It's the first time we'd be able to assist the countries in Europe and Asia to make sure they always have an open connection between Europe and Asia and between Asia and Europe," he said, noting the interest in China and Europe. "And there is interest for us."
Ilan Maor, a former Israeli consul to Shanghai and CEO of consultancy firm Sheng-BDO, agrees. He told DW that without foreign help and investment, it could be many years before the rail link is built.
China calling
"I think the investment or involvement of the Chinese companies and government in Israel, just like any other country whether European or American, is a good thing. If this project is good and it makes sense commercially, then if you have a foreign company which enables you to do it, that's a good thing. I don't think the Israeli government or any of the Israeli companies have the capability to take such a project and develop it by itself."
According to Oded Eran, a retired Israeli diplomat now at Tel Aviv University's Institute for National Security Studies (INSS), Netanyahu's interest in the link is less about economic benefits and more about developing a strategic alliance with China and improving access between the regions.
The Inter-Disciplinary Journal of Asian and Middle Eastern Studies has said the project highlights the "dizzying pace" at which China and Israel are forging economic and diplomatic ties.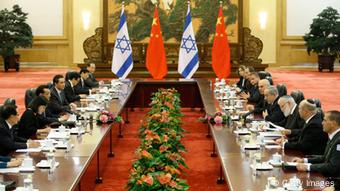 The rail link is just one of many bilateral deals
Maor believes that's partly why China isn't following current calls for economic boycotts and divestment. He travels to China regularly and can see how well-oiled its rail industry is and he thinks the investment in the Red-Med link will go a long way to fostering trade relations.
"It shows the Chinese government, Chinese companies believe that Israel holds a significant potential for business cooperation and that they believe the trade relation with Israel is not only between China and Israel but between Israel and other countries - it's going to develop."
Both Maor and Eran agree that this isn't likely to be the last investment in the Middle East by China. "I think China is looking more and more into the international market and doing business outside China. That goes for Africa, for Asia, for Israel and the Middle East. And I think any foreign involvement in the Middle East is coming from the positive aspect. Not somebody who is going to build military camps and sell weapons but a foreign body or company who is investing in the Middle East producing new projects," Maor said.
Avoiding the canal
According to the Center for Strategic and International Studies, China is now Africa's number-one trading partner, with trade worth $120 billion. Meanwhile, the European Union is China's number-one trading partner, so easy access to the continent is very important.
The Suez Canal has long been a point of contention and, according to the Center for International Maritime Security, the situation is unlikely to improve anytime soon.
The center blames Egypt's political uncertainty following the downfall of President Hosni Mubarak in February 2011 and the ousting of his successor, Mohammed Morsi, a year after he was elected in June 2012. The center says that political instability has left the Sinai Peninsula a "lawless zone for jihadists and Bedouin militias," highlighting a rocket-propelled-grenade attack last August on a Chinese-owned container ship.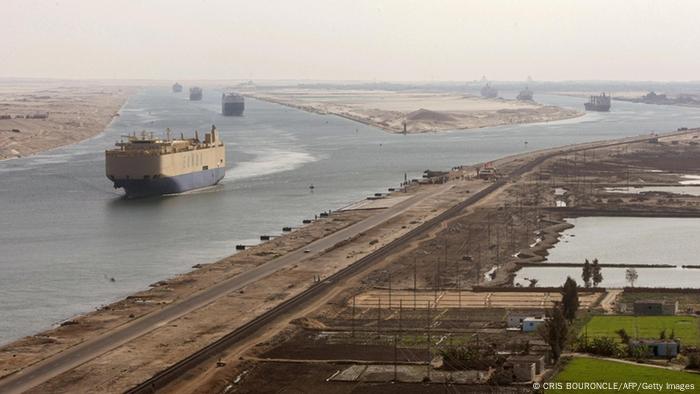 The new rail link could provide a viable and safer alternative to the traditional Suez Canal route
Lloyd's insurance market has even recommended that ships take the 6,000-mile route around South Africa instead. In September, it welcomed a new maritime hub at Port Sudan to provide an alternative should Egyptian unrest force the Suez to close.
Meanwhile, Eran of the INSS says it has become common for countries to demand an alternative freight route.
"Those who use the canal may find the alternative of train and using the Red Sea cheaper. You see there's demurrage on the Suez - congestion charges. We pay for waiting in line," Eran told DW. Still, he said the rail link is not a way to compete with Egypt.
"We want the Egyptian economy to strengthen," he said. "It's simply a way of facilitating transport between the industrial centres of the north to the south."
Linking Jordan
The Center for International Maritime Security has warned of increased attacks on the canal, but Eran is less worried.
"There's not so much of an issue with Suez, despite political changes and instability in Egypt," he said. "There has been no impact on those using the canal, no terror activity, and those using the canal have not been intimidated in any way."
And the project has the backing of the Israel Export and International Cooperation Institute. The institute supports Israeli exporters through international partnerships and trade relations.
"It's a great idea and of course the institute is happy," an institute spokeswoman said, adding that it was too early to predict export volumes. "It will improve infrastructure, and any improvement is great news."
But Eran, who was Israel's ambassador to Jordan from 1997 to 2000, says an opportunity has been missed. He wants the link to include Jordan.
"It doesn't exploit fully the benefits of relations with Jordan, especially in relation to transport," he said. "There's a semi-used port in Aqabar in Jordan - we could have used that infrastructure. It would have been economically and politically correct to work together on this." Eran also says that including Jordan would make the link much more appealing to importers and exporters.
Netanyahu, meanwhile, has said he wants to make the most of the link and use it as a two-hour passenger rail link between Tel Aviv and Eilat.