Hanan Pasternak moved to the Jordan Valley settlement of Netiv Hagdud 40 years ago and planted sprawling fields of green, yellow and red peppers that commanded high prices in Europe, especially in winter. But now Pasternak says he can only sell to Russia at vastly reduced prices because European supermarkets will not buy his vegetables.
"I am really worried about the future of my farm," said Pasternak. "The Israeli market is small. The [Jordan Valley] farms were built for export."
Pasternak is among a small but growing number of Israeli business owners who are feeling the pinch of European calls to boycott Israeli settlements, which Palestinians say are built on the land they claim for a future state. In the past few months, economic sanctions have expanded from West Bank settlements to include companies within Israel. The threat of losing Europe - Israel's largest trade partner - has government ministers scrambling.
Attorney Daniel Reisner, who represents dozens of Israeli exporters, said Pasternak's problems are the tip of the iceberg.
"We see companies trying to sell products abroad who are encountering protests and boycotts on stores selling their products," Reisner told DW. "We see companies with whom resellers abroad won't sign contracts for resale because they say 'your product is related to the West Bank' or some other potentially problematic locality. We see termination of contracts …. It's quite obvious the numbers are on the rise."
Gradual impact
Reisner said the scope of the phenomenon is still limited. However, he noted some European partners recently cut off trade with companies based in Israel but with activities in the settlements. In December, Dutch firm Vitens announced it would not work with Israeli water infrastructure company Mekorot because of its activities in the West Bank. The following month the Norwegian finance ministry announced it would stop investing its oil fund in construction firms Danya Cebus and Africa Israel because of their involvement in the construction of settlement homes. And in early February, Denmark's Danske Bank blacklisted Israeli Bank Hapoalim because it funds construction in West Bank settlements.
"Originally, the companies targeted were only those with business in the West Bank or the Golan Heights. Recently we've seen an escalation," Reisner said. "Even if your project has nothing to do with the West Bank, some companies say 'ah you have other projects in the West Bank and we don't want to do business with you.'"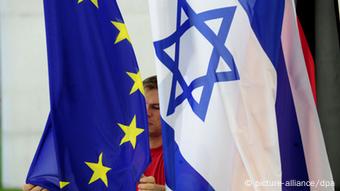 Ties between the two sides are strained
Israeli leaders are split on how to contend with threats of sanctions. Finance Minister Yair Lapid cautioned in late January that even a partial European boycott of Israel could reduce exports by close to $6 billion. Lapid and Justice Minister Tzipi Livni have urged Prime Minister Benjamin Netanyahu to reach a peace agreement with the Palestinians as a way of avoiding international isolation.
"If there is one thing the world doesn't understand it's the settlements," Livni told Israeli Channel 2 TV News. "And the negotiations are the wall stopping this wave [of boycotts]."
Who's to blame?
Hardliners in Israel, including Netanyahu, have hinted that boycotts of Israel are motivated by anti-Semitism.
"Attempts to impose a boycott on the State of Israel are immoral and unjust," Netanyahu said at a recent cabinet meeting. "They cause the Palestinians to adhere to their intransigent positions and thus push peace further away."
Settler spokesman Dani Dayan blamed US Secretary of State John Kerry for the current European calls to isolate Israeli businesses involved in settlements. Kerry warned at the Munich Security Conference earlier this month of "an increasing delegitimization campaign that has been building up…There are talks of boycotts and other kinds of things."
"The US has in the past legislated against the Arab boycott of Israel," Dayan said, referring to a 1977 law signed by former US President Jimmy Carter that imposed fines on American companies cooperating with Arab calls to isolate Israel.
"I would like to see the US Congress pass legislation against this current boycott," Dayan added. "I would like to see Kerry warning European ambassadors that the US is against a boycott. When he doesn't do these things, and only talks like a pundit, I cannot avoid the conclusion that he is cooperating with the boycott."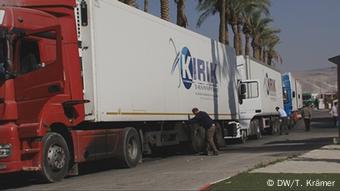 Israel may need to find new export partners
According to the Israeli daily Yedioth Aharonoth, Netanyahu convened his ministers last weekend to discuss the threat of boycotts. The newspaper reported that at the meeting, Minister of Strategic Affairs Yuval Steinitz proposed searching for covert links between groups boycotting Israel and terrorist organizations. The offices of Netanyahu and Steinitz declined to comment.
Business as usual?
In Ramallah, Hanan Ashrawi, a member of the Palestinian Liberation Organization's Executive Committee, welcomed European moves to reduce trade with Israeli companies involved in the settlements.
"Many of us are saying it's about time that Israel be held accountable," Ashrawi told DW. "We feel these are maybe the first tentative steps but they are significant."
For now, the limited moves taken by some European companies have yet to create serious consequences for most Israeli businesses. Africa Israel spokeswoman Orly Rionely said losing investment from Norway had little effect on her company, whose business is mainly in Israel and Eastern Europe. However, she said, "the atmosphere is affecting all of us as citizens of Israel."
David Elhayani, head of the Jordan Valley Regional Council of 21 settlements, said his constituents were already suffering greatly from reduced trade with Europe. He urged the government to compensate farmers for their losses because Israel's leaders had encouraged settlers to move to the Jordan Valley, funded greenhouse construction and helped launch the area's agriculture over the last four decades.
"We expect the government to help us and take responsibility," Elhayani said. "We are here. We did not come like thieves at night."