Thousands of doves were released on Wednesday as Chinese President Xi Jinping presided over a somber ceremony in Nanjing marking 80 years since the wartime massacre in the city by Japanese troops.
While vowing never to forget the "great catastrophe" wrought by "Japanese militarism" in a speech to the mourners, a senior Chinese official said the two rivals should move forward.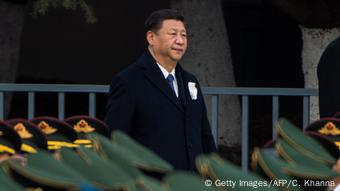 Chinese President Xi Jinping attended Wednesday's memorial ceremony
"China and Japan are close neighbours, neighbours who can't move away," said Yu Zhengsheng, a former member of China's top Communist leadership who now chairs a parliamentary body.
China and Japan should build on their "long, rich history" of links to deepen "friendship", Yu said, avoiding reference to bitter disputes over the massacre.
Commemorations have centered on the memorial hall and museum in the city, with observances also expected elsewhere throughout China.
The Rape of Nanjing
According to China, 300,000 civilians and soldiers were killed in a six-week frenzy of murder, torture, rape, arson and looting after the invading Japanese military entered Nanjing, then the capital city, on December 13, 1937.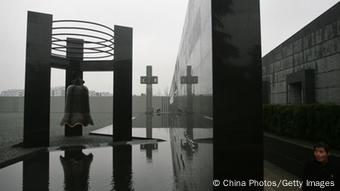 The monument commemorating victims of the Nanjing massacre, pictured ahead of the 70-year anniversary in 2007
An Allied tribunal put the death toll at about half that.
Fewer than 100 massacre survivors remain alive, with the oldest survivor dying on December 10.
Japan invaded China in 1937 and they fought a full-scale war between 1937 and 1945, until Japan's defeat in World War II.
The massacre is one of the most tense anniversaries for the two heavyweight neighbors due to disputes over the numbers involved and denials by Japanese conservatives that the episode even took place, which many in China say symbolizes Tokyo's unwillingness to atone for its wartime aggression.
Officially, Japan concedes that "the killing of a large number of noncombatants, looting and other acts occurred" but says it is "difficult" to determine precise figures.
History and the present day
The issue has re-emerged as China strikes an increasingly muscular stance under Xi. China in 2014 formally made the anniversary a National Day of Remembrance, effectively raising its profile. A Chinese group this week reiterated its annual demand for Japan to compensate relatives of victims.
China has also become increasingly assertive in its stance over the South China Sea, an area whose jurisdiction is disputed by several Asian countries, including Japan and China.
Critics say Japanese revisionists have grown bolder with conservative leader Shinzo Abe. Abe, the grandson of a wartime minister, has been accused of trying to gloss over his country's history. In 2015, he expressed "deep remorse" for Japan's actions in Asia, but also said future Japanese generations need not continually apologize.
Japanese politicians also have repeatedly angered Asian neighbours by visiting Tokyo's Yasukuni Shrine, which commemorates Japan's military dead including convicted war criminals.
Some 200 Japanese people attended a testimony meeting on Tuesday in Shizuoka city, central Japan, in commemoration of the massacre.
jbh/se (AFP, Reuters)