Amid the controversial and bloody nationwide drug war in the Philippines, China is providing the country a grant of $15 million (13.7 million euros), which will be used for drug rehabilitation and law enforcement.
According to a statement released last week by the Philippine Department of Finance, the funds will be equally divided between the Department of Health (DOH) for the construction of drug rehabilitation centers and various law enforcement agencies for the procurement of police equipment.
Health Secretary Paulyn Ubial told DW that the DOH portion will go to the construction of two rehabilitation facilities in the southern Philippines. "It may also be used for technical exchange and training programs, as well as information and education programs," she added.
The donation is part of a $9 billion pledge for public financing agreements from China made last October during President Rodrigo Duterte's state visit to Beijing.
The Philippines and China have had a long-standing feud over Beijing's sweeping claims over territories in the South China Sea. Duterte's state visit signaled a thawing in the relationship and ushered in a total of 12 government to government agreements that included rural and infrastructure development.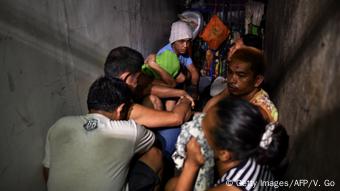 Alleged drug suspects are stuffed in a small detention cell at a Manila police station
Authorities are overwhelmed
Rodrigo Duterte was catapulted to the presidency in July last year on a campaign promise to end drug use and criminality. What Duterte lacked in crime fighting strategy, he made up for in fiery rhetoric loaded with threats to "kill drug users and dump them into the sea."
Soon after Duterte was elected, dead bodies mummified in packaging tape and signed with a warning, "Drug addict. Don't be like me," turned up in ditches and dark corners.
Fearful that they would be next, drug users surrendered en masse and already congested jails spilled over. Police data estimates that there have been 1.2 million people who surrendered since the start of Duterte's crackdown on illegal drugs.
Others signed up for drug rehabilitation, overwhelming the DOH.
The Philippines has 48 drug rehabilitation facilities all over the country, but only about 50 medical personnel who are trained in addiction medicine. The DOH can only train 30 new people per month because of the rigors of the program.
"Our goal is to have 2,500 municipal and city health officers trained in addiction medicine," said Ubial. "Right now there are about 35 undergoing training. When they graduate, we will have 85."
Currently, an estimated 12,000 people in the Philippines are in some form of drug rehabilitation program.
"The demand for treatment is outpacing the facilities. The intent is to quickly provide treatment through residential facilities," Dr. Gundo Weiler, the country director of the World Health Organization told DW.
"However, it is difficult to get a clear picture on drug use numbers. It makes it difficult to assess the degree of drug dependence and the real demand for treatment," Weiler added.
'Mega' rehab centers
In a recent press conference, law enforcement agencies and health officials claimed that the drug war was a success but admitted there was much that needed to be done.
Drug use estimates in the Philippines have been opaque. The Philippine Drug Enforcement Agency (PDEA) estimates that there are 4.7 million drug users in the country. In his inaugural State of the Nation Address last July, Duterte stated that there were 3.7 million "drug addicts" in the Philippines. Government data relased before this indicated the number was half that.
Part of the government's strategy is to build eight drug rehabilitation centers across the country. Two of these facilities will be constructed using the funds donated by China.
In November, the government opened the country's first "mega drug rehabilitation center" at a military camp in Nueva Ecija located north of Manila.
A Chinese real estate billionaire who once lived in Manila funded the construction of the center, which can reportedly accommodate 10,000 patients. To date, the center only has 227 patients.
Cooperation with a rival
Another problem is eliminating the sources of drugs. The PDEA identified Taiwanese and Chinese traffickers as top suppliers of "shabu" (methamphetamine) in the country.
Isidro Lapeña, director general of the PDEA, sees a potential for cooperation.
"China also has a problem with illegal drug traffickers in their country," Lapeña told DW. "Traffickers bring drugs to our country from China. Both our governments are working together to identify these targets."
"It is not unusual for China to have security or economic cooperation agreements with neighbors, including South China Sea claimant states," political strategist Richard Heydarian told DW. "What is unusual is the Philippines engaging in what looks like full-fledged strategic flirtation after years of mutual acrimony. This is a complete swing around from the previous administration's policy."
"Nonetheless, Duterte is not exactly acquiescing to China. He just needs to tame his excessively flirtatious rhetoric," Heydarian added.