China spoke out on Tuesday against the United States for deciding to bring criminal charges against a Chinese industrial firm for allegedly financing North Korea's nuclear program.
"We would like to stress we oppose any country carrying out so-called 'long-arm jurisdiction' over a Chinese entity or individual in accordance with its own domestic laws," China's foreign ministry spokesperson, Geng Shuang, told reporters.
Geng added that China was willing to cooperate with other countries, provided it was on the basis of "mutual respect and equal treatment."
On Monday, the US Department of Justice (DoJ) announced that it was bringing criminal charges against the Dandong Hongxiang Industrial Development company, along with four of its executives, for conspiring to evade US sanctions on North Korea. The charges include violating regulations against supporting "weapons of mass destruction proliferators."
The DoJ accused the firm of acting on behalf of North Korea's Korea Kwangson Banking Corp (KKBC), which is under US and UN sanctions for supporting nuclear proliferation. Hongxiang executives allegedly set up front companies to evade sanctions on North Korea's nuclear program and received hundred of million of dollars that were transited through the US.
Among the sanctioned executives was the firm's founder, Ma Xiaohong.
Similarly, the US Treasury added the company and four executives to a sanctions blacklist, barring them from any business dealings with American companies for individuals.
South Korea's foreign ministry said in a statement on Tuesday that it "highly valued" Washington's decision to bring criminal charges against the Chinse conglomerate. "By exposing the risks of trade with North Korea, we expect this measure to raise the alarm for individuals and entities in third countries as well as China that are trading with North Korea," a ministry official said.
China making 'unremitting' efforts to ensure nonproliferation
China's foreign ministry had announced last week that Hongxiang was being investigated for "illegal behavior" and "economic crimes," while Geng stressed again on Tuesday that Beijing would "seriously punish any illegal activities by companies or individuals, once discovered."
At the UN General Assembly in New York last week, US President Barack Obama and China's prime minister, Li Keqiang, agreed to step up cooperation in investigating the Hongxiang conglomerate.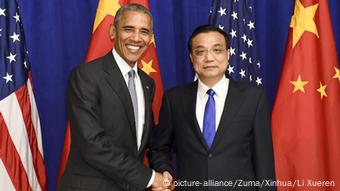 However, custom details released on Monday show that imports of North Korean coal into China surged by almost 60 percent since April, when the latest sanctions came into effect. Nearly 2.5 million tons of coal is believed to have been imported to China, valued at around $113 million (101 million euros)
A recent report by the Asan Institute for Policy Studies in Seoul and C4ADS in Washington estimate that Dandong Hongxiang had logged more than $530 million (470 million euros) in two-way trade with North Korea between 2011 and 2015.
The report said that this amount of trade would be enough to finance North Korea's uranium enrichment facilities, as well as design, build and test its arsenal of nuclear missiles.
Although China is North Korea's only major ally, it openly disapproves of its nuclear and missile program. Beijing has signed on to economic sanctions imposed by the UN Security Council over the North's nuclear missile tests.
dm/kms (Reuters, AP)